Dear KES Family: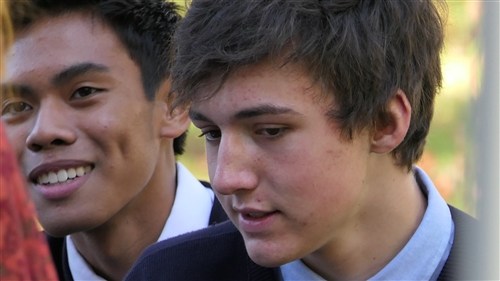 T'was the day before Christmas holidays and all through the School, the students were studying for exams and following the Golden Rule.

The day before examinations finished, I was visited by five students from Mr. MacInnis' Entrepreneurship class. This lovely group from the Class of 2018 - Valeria (Mexico), Duncan (Windsor, NS), Alex (Chester, NS), Tristan (Barbados), and Maverik (Newfoundland) – had raised over $400 for charity through an auction at school. The items varied from sleep-ins and Strickey cookies, to a trip to Costco with Mr. Faucher and donated clothing from New Scotland designs. They split their 'earnings' with the IWK Foundation (supports women, children, youth and families at the IWK Health Centre in Halifax) and Phoenix House, which is a shelter for teenagers in Halifax. Impressive stuff!

The spirit of giving has infused our School and become a natural way of thinking and acting. Our Christmas Giving Tree had three ways to help others. Students could:

1. Share the Warmth: gently used (or new) winter hats, scarves, mitts or jackets
2. Help feed the hungry with a non-perishable Food Bank donation
3. Bring Christmas to a child with an unwrapped toy

In addition, we have just finished a powerful two-week awareness lesson about violence against women. Led by Mr. Campbell and our Youth in Action group, this was a sensitive and educational White Ribbon campaign. After an all-School fundraiser, we were also able to present a cheque to Chrysalis House, a shelter for abused women in Kentville, NS.

Helping others is both instinctive and learned behaviour. If children learn to share and to be generous, then they will be caring and sharing as adults. If our students learn how to help, and how to make a meaningful and thoughtful difference in the lives of others, then a KES education takes on a whole new dimension. Seeing our students treating others as they would like to be treated themselves, warms the heart.

Wishing you the Merriest of Christmases!

Sincerely,
Joe Seagram