Dear KES Family:
Happy New Year!
As we enter the Chinese Year of the Dog, we honour the qualities of honesty and loyalty, reliability and friendship that characterize this element of the calendar and those who are born in these years. Although we are a long way from spring in Canada, the New Year celebrates the change of seasons and the renewal of life. It is also a time to honour ancestors and those who have passed in the preceding year.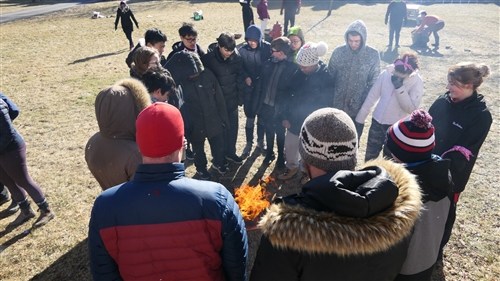 At 8 degrees Celsius right now and not a flake of snow anywhere other than the ski hill, it certainly feels more like spring than winter on campus. Ironically, our Winter Carnival was this week and despite the lack of snow, we held all our outdoor events – including the toboggan races! – as normal. I was really pleased. It is very easy to postpone or cancel events because conditions are not perfect. What a lesson there is to be learned from Captain Hynes who didn't let a lack of snow interfere with our plans to have a great day of fun competition. We had a fabulous time. We kept some of the traditional competitions like blind volleyball and the stretcher race and tug-of-war, while adding some terrific events like fire building and relay swimming.
Hypnotism always amazes me, and I applaud the courage of the students who let themselves be hypnotised on stage in front of their peers. To their credit, everyone understands that "what happens on stage, stays on stage" and no one Tweets or Snapchats images or makes fun of those who are induced. It is a remarkable test of respect and affection in our community for those who participate. I think this why at one point our hypnotist did something he rarely does – he made himself invisible. As he explained, it is not difficult to suggest that people see things that are not there, but it is very difficult to make people NOT see things that are in front of them. I think it is a tremendous compliment to the school community that the eighteen students on stage were able to let themselves be induced so deeply.
In their after dinner speech on Valentine's Day, our Head Girl and Boy (Meredith and Arturo) asked that everyone "remember to be your most thoughtful and loving self, as it is our hope that you will feel comfortable and accepted, while working to make others feel the same way…We are so fortunate to be able to come together as a school community and spend time together like we have today. We hope that you will take the time to reflect upon these moments and the people who add light to your daily life, and that you will use Valentine's Day as an excuse to celebrate your most meaningful relationships."
Sincerely,
Joe Seagram