Dear KES Family: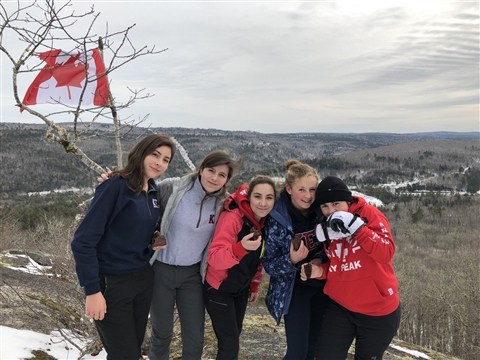 Okay…where did February go? Wow, that was fast!

They say that if it were not for the weather we would not have anything to talk about. I try to avoid the subject as a result. However, when the wind chill takes the temperature below -30 Celsius it becomes a significant feature of one's life. When not one but two water pipes freeze and burst, the resultant flooding is worth a remark or two.

I have never seen it rain indoors until last night. Stepping into the Fauchers' apartment in Buckle House was like walking into a torrential downpour. The burst sprinkler pipe on the top floor sent cascades of water through every cranny and crack of the ceiling which then flooded the second floor before consequently cascading yet again through the first floor ceiling into the kitchen and dining room areas below. Within minutes the fire trucks started to arrive as did our own staff. The instant response from our community was remarkable.

Although the boys' rooms were unaffected, the safety and water systems in the dorm were compromised. The Buckle Boys cleared out, making their way to the Dining Hall to keep warm before heading out to spend the night in the comfort of the Super 8 hotel with Mr. Alguire.

Meanwhile, I was hugely impressed to see our staff team of Gord and Nevelle, Brandon and Derek jump into the downpour to help with the possessions rescue and clean up. The moment that water service was shut off, the wet-vacs were busy sucking up puddles of water, and plumbers (like alumnus Ryan Reynolds) were on the job with industrial blowers and dryers and expertise. The Fauchers had no less than seven offers of places to stay for the night and beyond. They stayed with us (we are right next door), their dog Piper stayed with the Parkers, and when I went to find their son Chaz to bring him over to our house, I found him happily ensconced in Clara and Federico Cisneros's living room watching TV and eating a big plate of spaghetti (at 10:00pm)!

We often refer to the School as a family. Last night I really had that feeling. When I drove the first ten Buckle Boys to the Super 8, they went without complaint (to my amazement some were wearing shorts in that weather!...Boys - gotta luv'm) and with genuine concern for the Fauchers. When I went to the Dining Hall to supervise the final gear check for our Africa Expedition, Pat LePoidevin said: "Joe, I got this. You go look after everyone in Buckle House."

We leave tonight for Tanzania. Despite the deep freeze, this is a place that warms the heart.

Sincerely,
Joe Seagram