Dear KES Family: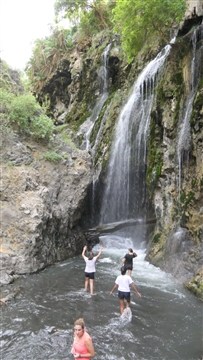 On our first morning of community service in Tanzania, our KES team of 30 (26 students and 4 leaders) worked so hard and so quickly that we did in one half day what the organizers thought would keep us busy for the whole week we were there. They quickly adjusted the schedule and workload, giving us more cement and plaster work as well as the foundation for a double-wide school building to fill. In the next two days, we moved by hand, bucket-load, and wheelbarrow, over 35 metric tons of rock. Not only did we finish filling the foundation, but we were able to mix enough cement (by hand) to cover the floor in four inches worth of concrete.

Time and time again, our trip organizers had to re-adjust their expectations. A five-hour hike we would accomplish in three hours. A three-hour segment of work we would finish in one. When teenage girls like Kate Smith and Teresa Musi are carrying (by themselves) 50 kg bags of cement from the storage room to the worksite, you know you have a committed group of exceptionally strong young men and women. Perhaps, then, it is no surprise that all 26 students (half of them in the Junior School with the youngest – Valeria and Maria - being 13 years old) made it to the summit of Mount Kilimanjaro, doing the seven-day Machame Route in six days…and carrying their own gear without the assistance of porters.

Perhaps it is not surprising that my emotions have been very close to the surface this week. Returning on Saturday night in time for Parent Teacher Interviews on Sunday has left me rather vulnerable. For 23 days we all ate, worked, laughed, sang, danced, star gazed, climbed, swam, and hiked. We did all of it together. I miss the closeness and energy. I miss the team.

My heart also swelled last night at the IB Art Exhibition. I took photos of some creations, as seen below, so that you have a soupcon of how talented the artists are and what magic Sandy Stewart has been able to weave into her classes. Our Dining Hall has been transformed into an art gallery.

Tonight is opening night for Ms. Sinclair's So Much Drama! production in the Fountain Performing Arts Theatre. Another first event for this school year, I am thrilled that the Arts are front and centre in our School culture.

The word "safari" is a Swahili word for journey, any kind of journey. I am thrilled with the collective and individual safaris our students are on. They are transformative.

Sincerely,
Joe Seagram