Dear KES Family:

It is a happy School today! IB exams are over, the sun is shining, and the quad is full of Frisbees and footballs and smiling faces. There is a feeling of accomplishment and anticipation in the air, and the long weekend starts this afternoon. What could be better?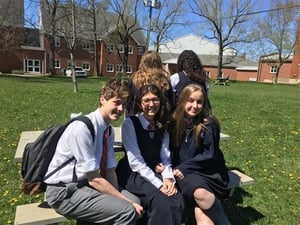 Humility can be such an admirable and revealing trait. It is not typical in teenagers but when it emerges it is simply lovely to see and hear. Yesterday morning as Grade 10 student Ryan Costello made his way to Chapel, I congratulated him on his Gold Medal performance at the District Championships for track and field. He ran the second leg in the 4 x 100m Intermediate relay. Ryan's instant response was to give credit and adulation to his relay team members Duncan McLaughlin, Andrew Yearwood, and Josh Mills saying, "I take no credit for our victory. Duncan, Andrew, and Josh are so fast I could have walked my leg and we still would have won." A lightning fast skater on the hockey team and all-around athlete (also placed in the shot put yesterday), I am sure Ryan's contribution to the team was far more than a walk.

A rare KES day it is when you don't have to change clothes at least once. (Quick changes are a little known KES skill.) Yesterday for many, was a four-outfit day (minimum). A humble example would be Grade 11 student Linus Mulherin. He came to School in classroom dress, changed into his formal cadet reds at lunch, jumped into his rugby kit afterwards to hit the pitch against Avon View, and then transformed again to play bass guitar in Convocation Hall for our School rock band Alcazar.

I love Four Pillar days (Academics, Athletics, Arts, Leadership), and yesterday like so many of our students, Linus was swinging from Pillar to Pillar like Tarzan.

Sincerely,
Joe Seagram