Dear KES Family: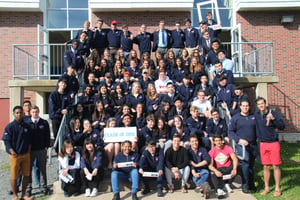 As I had my final meeting with this year's dynamic Head Girl and Head Boy (Meredith Chambers and Arturo Ramirez), I could not help but feel the heaviness of their emotions. It was not just that they were feeling emotional about the end of their time at KES, that graduation is only a week away, but that they will be missing out on all the great things that are planned for next year. They are excited for the next stage of their own lives but sad that the next stage of the School's life will belong to others.

There is a lot in the works this summer on campus and some fabulous new programmes at the School next year. I can see how they may feel they are missing out. First of all, construction has already started on the Fountain Performing Arts Studio. This is a 1,100 square foot dance and recording studio which will be home to our new dance programme and dance instructor Stephanie Cummings. It will introduce a whole new element to our performing arts programmes at the School. Additionally, construction for our new all-weather turf field starts on Monday. Surrounded by an eight-lane, crushed-gravel running track (we won't be able to finish it until we have raised the funds to do so), it will be a huge addition to our recreational and varsity sports programmes as well as our Cadet Corps. The field will be FIFA and World Rugby dimensions and certified.

Sometimes the biggest changes are those which are not "built" but created. For instance, I have been busy this week interviewing girls for our new prep school basketball team. These young women are simply incredible. Motivated scholars and dedicated athletes, they will fill KES with their good humour and energy. Two of the sparkling and happy girls I interviewed this week are six foot four inches tall! All of these students are enthusiastic about working as hard in the classroom as they are on the basketball court.

And then there is the anticipation of having one of the very few licenses to perform "Mamma Mia" next fall, of having a vibrant dance programme, of seeing our debating and robotics programmes leap to the next national and international level.

To successfully survive another 230 years, KES must never stand still. We must constantly grow and evolve. We can stay small but we must always be mighty.
Sincerely,
Joe Seagram

Thank you to Federico and Clara Cisneros for contributing to this week's photos, browse them here.