Dear KES Family: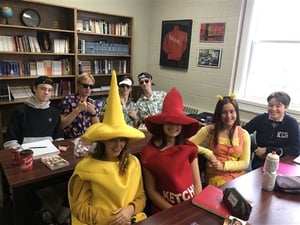 As the beat and energy of Michael Jackson's
Thriller
got everyone moving at our Halloween Dance last night, I could not help but be a little in awe (and envious) of the moment. Thirty-six years after its release,
Thriller
still inspires movement and joy on the dance floor. This generation also knows the proper dance moves, too! He did not know I was watching, but it was clear that
Mauricio Alvarez
, all dressed up in his sleek black suit, felt hat, and costume, had the whole zombie-
Thriller
dance routine memorized!

It is remarkable how the posters and music of bygone eras have survived. When I was in high school, our dorm rooms were decorated with Pink Floyd, Beatles, Rolling Stones, and Bob Marley posters. Those are still in vogue in the dorms today, as are their songs. There is a resurgence of Abba and Queen and Beatles songs (inspired by theatrical and cinematic productions), all of which have the capacity to yank us older folks out of current days to our teenage years. Even the sound tracks to popular movies like Marvel Comic's Guardians of the Galaxy feature throwback songs like "Hooked on a Feeling" by Blue Swede, "Ain't no Mountain High Enough" by Marvin Gaye, and "The Chain" by Fleetwood Mac.

Research has shown powerful connections between music and memory, as well as music and emotion. It is being used increasingly in therapeutic settings and with the elderly suffering from Alzheimer's. However, I think we all know intuitively that music has the capacity to transport us back in time, and to elicit feelings associated with those times. Hearing Thriller last night took me back to a time when, for a brief moment, the planet stopped spinning as people across the globe literally held their breath waiting for the simultaneous world-wide release of Michael Jackson's extended (14 minute) Thriller video on December 2nd, 1983. It was a joyous time.

Halloween at KES is also a joyous time. The humour, the costumes, and the candy (!), all make for a memorable day of fun. I imagine that someday in the distant future, our current students will hear songs which remind them of their days at the School. I hope that the feelings they have then will be wonderfully warm and happy reminders of good times and great friends.
Sincerely,
Joe Seagram