Dear KES Family: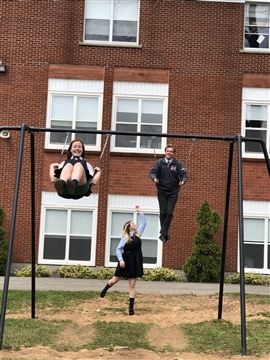 Managing risk is a life skill. It needs to be learned (preferably taught but some of the most indelible lessons come the hard way). If we eliminate risk altogether then we do our children a disservice, spawning an anxious generation that is unable to be exposed or vulnerable: physically, emotionally, socially, or financially. Calculating risks and rewards, judging potential consequences, mitigating harm: these are essential skills that all of us use every time we drive a car, make an investment, ask someone out on a date, or choose an activity.

I believe in meaningful risk. I believe there is joy to be found in a well-rounded and perfectly thrown snowball. Students are allowed to throw snowballs at KES – just not at windows or at someone's face. The new swing sets have an element of risk. It is foreseeable that a student, in an ill-conceived effort to show off, may do a risky dismount and hurt themselves on the ground. Or, someone texting with their head down could walk in front of a swinger and get kicked in the head. (Some lessons come through experience!) There is joy in swinging and if one swings responsibly the risks are acceptable. With coaching and practice and testing, sixteen year olds may drive cars. Taking part in activities where one's judgement will determine whether there is a good or bad outcome is essential to success in life. When we had our students swinging pick axes and mixing cement by hand at a construction site in rural Tanzania, I think they learned more than the school group which came after us and was forbidden to do the same by their teachers.

Which brings me to rugby and last week's provincial decision to ban it for safety reasons. It has since been re-instated, but there is an implicit promise on the part of Rugby Nova Scotia to structure and operate the high school game and league in such a way that it is safer for all participants. Much can and should be done in terms of training and development, coaching techniques and player preparation, but the reality is that rugby players will always be putting their bodies in harm's way. There will always be an element of risk attached to the game. Whether that risk is acceptable or not will remain a choice for parents and students and school administrations.

I find joy in the game of rugby. I have since I was thirteen years old. Without doubt my love for the game is intimately associated with the fear I must control when I play. Every time I step onto the rugby pitch I know, as does everyone else around me, that I can get hurt. Injuries are foreseeable, bruises and abrasions are likely. Perhaps because it is so physical the game has acquired a unique culture. The opposing team is not the enemy. There is respect and affinity for anyone who plays the game, and anyone who wants to play (regardless of size and ability) is able to find a way to contribute on the pitch. All you need is courage and determination. I would never force or persuade anyone to play. It has to be an individual choice. However, regardless of their age or body type, for those who take to the field I have nothing but profound respect. There are lessons one learns out there in the fray – about oneself, one's teammates, and about life – that are difficult to find anywhere else.

Sincerely,
Joe Seagram
This week in pictures