Senior school students have been hard at work rehearsing for the upcoming musical, Heathers. The production is a dark comedy that deals with matters affecting teens including bullying, suicide, manipulative relationships, and mental health issues. A student favourite, parts of the show have been revised to best suit a school environment.
Heathers, which is first and foremost a source of entertainment, serves as a springboard for conversations around issues that teens are faced with every day.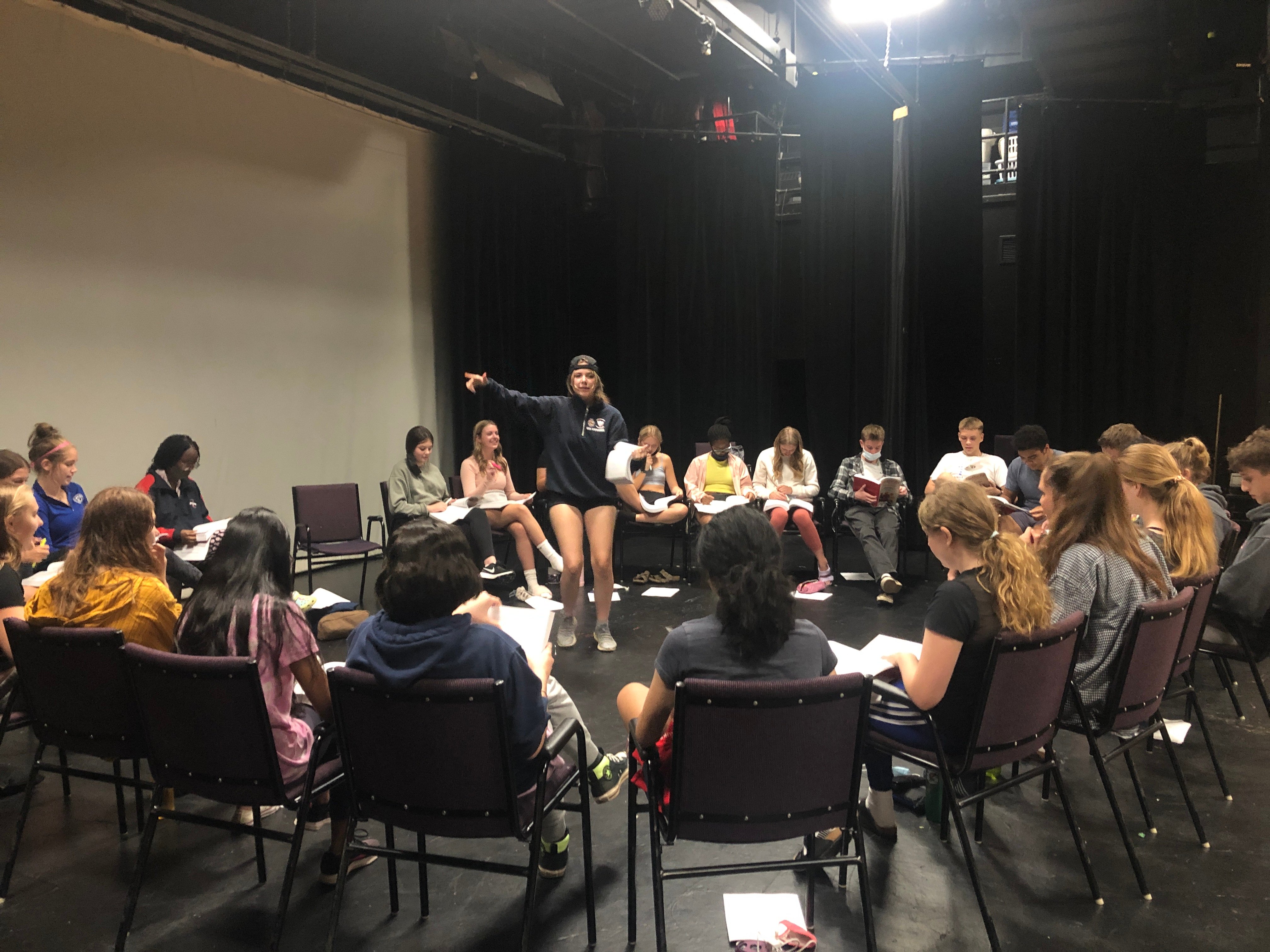 Cast members rehearsing
"The musical does not claim to stand alone as an educational piece of theatre," said faculty member Toven MacLean. "The learning opportunities come from the conversations around the show, and we've already had some good discussions during rehearsals with the cast. This Fall, the KES mental health education team will also be focusing on themes presented in the musical."
The cast has been busy with rehearsals, squeezing them in whenever time permits. We are very excited to see the result of all their hard work in the coming weeks.
Check out those moves!
Cast list:
Veronica Sawyer - Hannah Pace '22
Jason "J.D." Dean - Taylor Cole '22
Heather Chandler - Zoe Henry '23
Heather McNamara - Hannah Bryant '22
Heather Duke - Lucy Goddard '23
Martha Dunnstock - Maya Faucher '22
Ms. Fleming - Emma Toope '24
Ram Sweeney - Will Mercer '22
Kurt Kelly - Megan Mattie '22
Ram's dad - Gabby Strickey '22
Kurt's dad - Emma Toope '24
Big Bud Dean/Coach Ripper - Sean Hurley '23
Veronica's mom - Hannah Stilwell '23
Veronica's dad - Graydon Spence '24
Principal Gowan - Gabby Strickey '22

Boy 3: Hipster dork - Theo Anderson '23
Girl 1: New wave girl - Allie Pape '24
Girl 2: Stoner chick - Hannah Stilwell '23
Girl 3: Young Republicanette - Emily Norton '22

Officer Milner: Hannah Stillwell '23
Officer McCord: Gabby Thong '22

Candy store back up vocalists: Hannah Stilwell '23, Maya Faucher '22, Emma Toope '24
Featured singing ensemble: Hannah Stilwell '23, Emma Toope '24, Gabby Thong '22, Tanvi Manchineni '24, Sabine Wellard '24, Allie Pape '23, Emily Norton '22
Ensemble: Qiaoman Tracey '23, Emily Mei '24, Sadie Junger '24, Rowan Bijloos '24, Claire Morton '24, Katie Hodder '23, Evey Kennedy '23, Maeve Hurley '23, Jessica Etou '24, Adaoma Ukaegbu '23