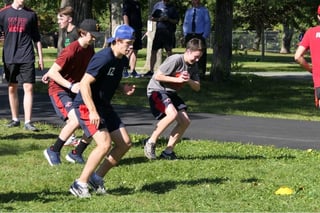 In order for the brain to be more, the body needs to do more. It is for this reason that KES runs a weekly "High Performance" Training Group. KES values the role physical fitness plays in daily life and encourages healthy habits early on. Our emphasis on physical fitness is not only seen through our various athletic offerings, but because we also offer extra to students who want to train more.
Head Soccer Coach, David Foley, runs the High Performance programme. David hails from Westport, Ireland where he spent his whole life playing varying sports and competitive levels. A heavy soccer background (along with GAA Football and Hurling) led David to the University of Greenwich. There he started playing rugby while completing his Bachelors Degree in Sports Science. It was here he first became interested in the High Performance levels of sport and took particular interest in the biomechanics and psychology of sport.
Unsure which road to follow next, David completed another Bachelors Degree this time in Sport and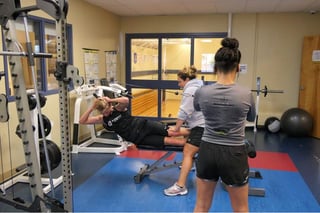 Adventure Management. David also has gained qualifications in S.A.Q. as well as the FA's Level's 1 and 2 coaching badges. David has not only a background coaching soccer at home in Ireland but also rugby in England, and competing in various individual and team sports giving him excellent knowledge.
Currently in his second year at KES as Head Soccer Coach and Head of High Performance, David has brought a fresh approach to sport at the school. Being no stranger to travel and moving he is able to empathise with the kids who have come to the school from abroad and out of province.
KES' High Performance Programme runs three mornings a week and three evenings a week. Two of the three morning sessions are devoted to S.A.Q. (Speed, Agility, and Quickness) and explosiveness and sprint stamina. The other morning is functional training focusing on mental strength through tough trials.
The evening sessions are sport specific. Many of the athletes taking part are in the same sport, and group sessions for a certain sport will happen at least once a week. The other evenings, the athletes have sport specific gym plans to work on.
We ask students interested in participating in the High Performance Programme to express their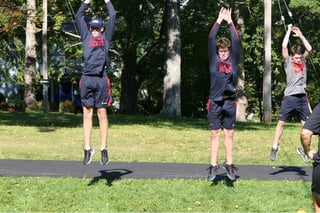 commitment by signing a long-term contract. Once enrolled, students are asked to make two out of the three morning sessions, and attend as many sport specific sessions as applicable to them.
As part of the High Performance Programme we have Shauna Forsyth available for students who want to work with her. She is also responsible for the year-round program design of both the male and female hockey teams. Her services are available, for a fee, in addition to the High Performance Programme and compliment what the programme offers athletes.
Shauna is also the owner of Maritime Strength and Conditioning, located on the campus of King's-Edgehill School. She trains both KES students privately and in small groups along with offering programs to members of the community, such as personal training, morning boot camp workouts, nutritional consultation, and fitness program design.
Prior to becoming a member of the KES community, Shauna served as the Assistant Director of Strength and Conditioning at Harvard University in Cambridge, Massachusetts. She has a Bachelor of Science in Sports Medicine and worked for many years as a Certified Athletic Therapist in New England. She holds a Masters of Science in Applied Exercise Science and a Level 1 Precision Nutrition Certification.
So far this year, we have 16 student athletes signed up for High Performance Programme. These students are from various sports, including swimming, soccer, hockey, and basketball. One of the reasons we offer specialized training is so our students have the opportunity to push to the next level in athletics. We encourage our students to work in ways that pushes them further and the High Performance Programme is one such way.
For more information on how your child can get involved with the many athletic offerings available at King's-Edgehill School, download our Athletics Photojournal.