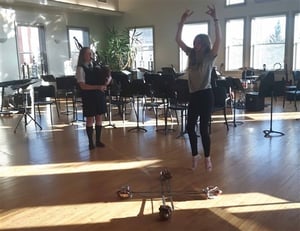 A day in the life of a Cadet at King's-Edgehill School can cover a broad range of activities. One can end up in a canoe on Pisiquid Lake, hiking Mount Moses, participating in the Small Arms Trainer at Camp Aldershot, taking a class, giving a class or refining the latest song by the Brass and Reed Band. Lots to do and sometimes something old becomes something new.
This week, the Pipers of the Corps engaged in the ancient tradition of Highland Dancing. Under the able instruction of
Ms Meghan Keoughan
, our young cadets learned the intricate movements that go into a successful fling. Highland Dancing goes back centuries and is an old tradition in the Black Watch.
Of course, we always go the extra mile in all of our activities. Day 1 of Highland Dance class and
Ms Keoughan
asked, "Where are the swords?" So, off I went and brought back the swords to 'class up' the act even more. Have a
peak at this short video
of
Sergeant Rhyan Rusaw
as she performs a sword dance routine. The 254 -- ordinary is not in the vocabulary.