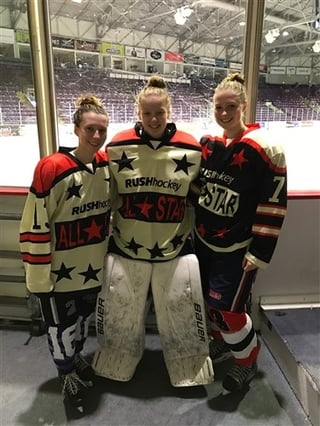 This past weekend five of our female hockey players attended the RUSH Showcase in Brampton, Ontario.
Kenzie Cecchetto, Amelia Humphrey, Jordyn Hickey, Ava Benedict,
and
Deanna Fraser
flew to Ontario to show off their skill and talent in front of a big crowd of supporters. This premiere showcase is by invitation only and is attended by many Canadian and American University scouts, coaches, and managers. It is an amazing opportunity to meet, discuss, and be seen by coaches from all over, with the possibility of playing for their Universities in the future! It was a challenging, fun-filled weekend working alongside some of the best coaches in the University circuit, and making new friends. Three of our girls even made the ALL STAR team!
Ava Benedict, Deanna Fraser
and
Jordyn Hickey
suited up in the best game of the weekend and made KES proud! We want to congratulate all five girls for their hard work, and representing KES so well over the course of the showcase. The feedback we received from showcase organizers was positive and coaches were impressed with their level of play. Very proud of you all!

Isabelle Germain
Head Coach - Girls Prep Hockey
Academic Biology Teacher
We offer Hockey as a team sport during two out of three semesters. That means lots of ice time for our students who love the game, and still, an opportunity to try out another sport! Download our KES Hockey Handbook here.