What a fun and exciting weekend of female hockey in Stanstead, Quebec at the NAPHA Championships! Our girls were awesome and showed the KES competitiveness and sportsmanship at the arena and were polite and kind all weekend, something we sometimes take for granted of our students.


The girls played a great "team game" in the quarter finals against Gilmour Academy, winning 1-0 in overtime!
Chloe McClean
scored with a wicked shot over the Gilmour Academy goalie's shoulder which sent the girls off the bench to mob her.
Maggie Baxter
was awesome in nets, stopping all shots that came her way.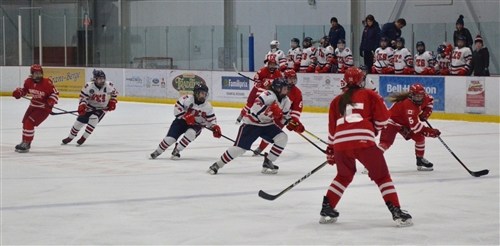 Well, it was hockey night in Stanstead for the semi-final with a noisy and rowdy crowd. Our KES supporters cheered "KES" and a large Stanstead College group cheered on the "Red Army", a nickname from the dominating Cold War Russian hockey power house.
Deanna Fraser
was solid in goal and all our girls put forth their best effort. Unfortunately, on this night, Stanstead was too strong and didn't allow our girls many chances to match their 4-0 win.
Putting everything on the line for KES, and especially for our eight graduating players, the girls came out flying in the bronze medal game. The game was another thriller, and we carried most of the play and had a lot of quality scoring chances. However, in overtime, Nichols School from Buffalo, New York were able to find the back of our net to hand KES a tough 1-0 loss.


There were a lot of tears after the game, the last NAPHA game for our eight seniors;
Jordyn Hickey, Kathleen Balcome, Brittany Pieroway, Maddy Walsh, Amelia Humphrey, Maggie Baxter, Jenna Leighton
and
Sophie Fraser
! The tradition of having our Grade 11 students present each graduate with flowers after they speak about what these Grade 12 students mean to our School, the team and themselves is emotional and joyful!
I hope you enjoy a brief glimpse into our tournament play.


It's great to play in a private school league with such elite student athletes and respectful competitors.
Jeff MacLeodDirector of Hockey Operations &Associate Director of Admissions


Our hockey programme attracts girls and boys from as far away as Russia. And we have alumni still playing competitively at high levels. Find out all about it: Download the KES Hockey Handbook.