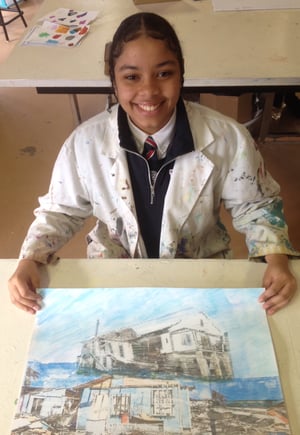 I hope you enjoy our virtual exhibitions. We admire not only our students' skills and creativity but also their courage in sharing their work with us. Please join me in congratulating our 2020 IB Visual Arts students on their hard work and achievements.
We would like to introduce IB Artist:
Aimee Cooper


This body of work is intended to prove my increased skill through aspects of the arts, from drawings to craft pieces. I want my audience to feel a piece of my home through these works as it was surprising even to me that I created an exhibition that was so centered on my home. I want my audience to interpret the importance of home to me, which I prove through the exhibition text and for some the intensity of the use of color and lines. Even for myself, the artist, I enjoyed watching this come together as it taught me something about the importance of my home to me. After this I learned that home is more than a place I visit, but I realized that the things I see each day have become inspirations to my work. My vision in presenting these pieces was not only to express my improvements in the arts but also the connections between each piece. For many of my pieces I have multiple studies that inspired them or symbolize an aspect of the piece, sometimes even without the expectation of another piece coming to life. Though I was surprised that this exhibition came together as it did, each piece within it was influenced by some other piece.
Within this exhibition I have worked with a range of different materials and techniques such as: watercolors, transfer techniques, acrylics, photography, filters, crepe paper, feathers and jewels. The use of these materials and techniques were due to me wanting to try new things and seeing the end result. The motifs for my photographs were because of the symbolisms of the subjects of the photos. The reason I used new techniques such as the transfer piece was because I wanted these related pieces to have a different look. I believe a large theme of this exhibition is family as I see everything about my home as a part of me, but it is unique because it includes the destruction. It gives the audience a feel for what these individuals went through with such a traumatic experience which excites me about this exhibition because it achieves perspective. The viewers of this exhibition are of course going to perceive my form of art in different ways, but I have portrayed the view of someone who has overcome the struggle of watching their home rise from turmoil. I have also expressed the possible turmoil of an artist as I've had so many inspirations through photographs and sketches and have never done anything with them until I realized their importance. Modern artist go through being stuck.
The order in which I have set my exhibition is of importance. Beginning with the center of the inspiration of many artists in my home, the photo of the architecture. Then connecting that photo to family and referencing my many pieces that depict the important figures in my family. I see this as an important connection as my family is a family of artists and musicians that inspired me from a very young age, but I did not utilize these inspirations until I had a platform as such to show it. Another importance of this exhibition is showing the symbols of my pieces that explain how I view things. All artists see things differently, this is why no art is truly the same. For example, the way I see flowers that remind me of my grandmother are probably seen otherwise by everyone else, even artists who depict flowers. Then, completing pieces that really show my culture that is very important and fruitful to me. I want the viewers of these pieces to find some connection between my pieces. I want them to feel the importance of my culture and maybe see the importance of theirs, to understand my reasoning for each piece and maybe find something they have that they can make into art. With there being so many toxic things in the world where everyone is being affected, one does not have to find the positive side, but art can be that positive as I believe anyone's art can depict something for someone. Thus, art can prove that we are all going through this together.
chalk pastels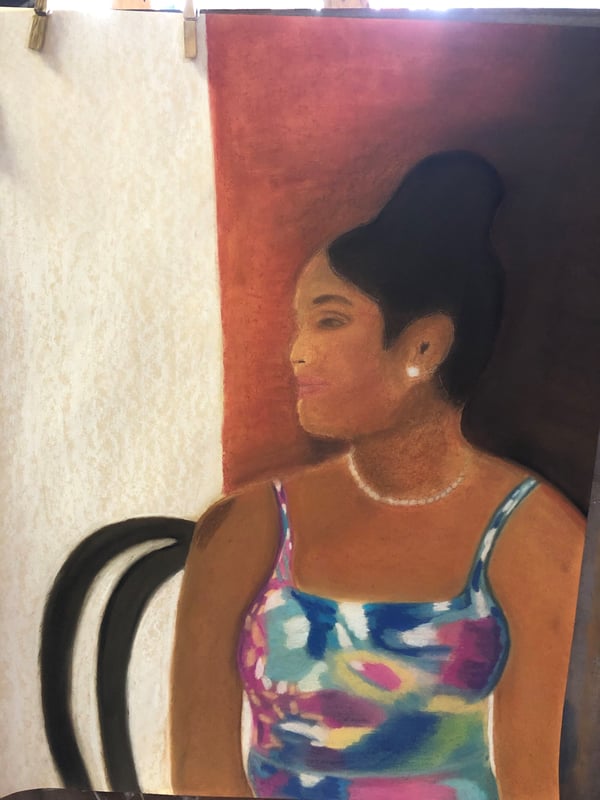 Figure 2:

Cassandra
(April 2019)
Photograph taken on Canon EOS Rebel T5, 5184 x 3456
This flower is a direct connection to my grandmother. In a photo of her on her wedding day, about 50 years ago, these flowers remind me of those she was holding. This photo was also taken during her birthday month, so it was only fitting to name this photo after her.
Figure 3:

Genealogy
(September 2018)
Photograph taken on Canon EOS Rebbel T5, 5184 x 3456
This photo is of my older sister on the day she graduated from university. I have worked on a variety of pieces that pay homage to important females in my family. It was fitting to name this photo
Genealogy
as it springs upon ideas such as family trees and this photo is a part of my series.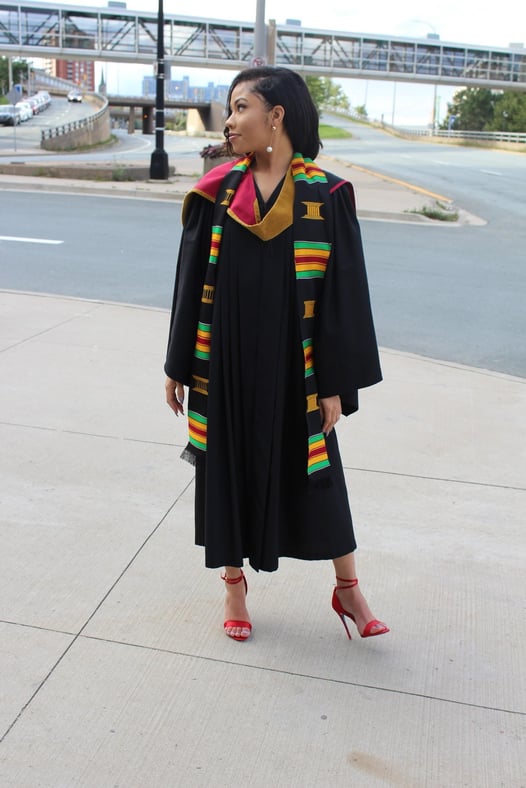 Figure 4:

Inspiration
(March 2020)
Photograph taken on Canon EOS Rebel T5, 5184 x 3456
This building is located in the downtown area of Nassau, The Bahamas, my home. This building is very impactful to native artists, as it has changed form through the inspirations of artists over many years. Currently, it pays homage to our ancestors who endured the slave trade through photographs and quotes over the empty windows. This building symbolizes how art is infinite thus mysterious as no one living can tell the story about what the building once was. This gave rise to an art studio, located next door, which is a hub for young artists to mingle and share ideas.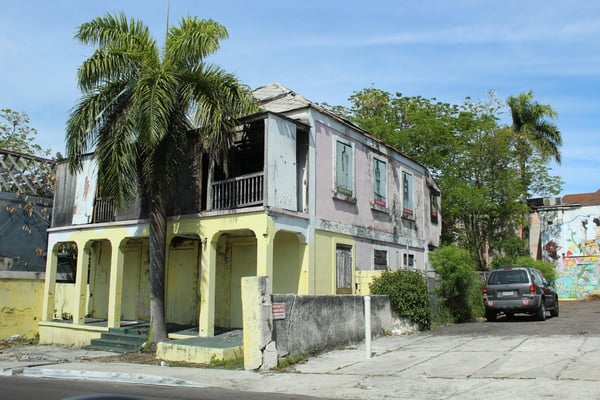 Figure 5:

Hurricane Dorian
(February 2020)
Acrylic on Stretched Canvas, 76 cm x 100 cm
My inspiration for this painting was taken from a photo in a news article during their coverage of the devastation of Hurricane Dorian that occurred in The Bahamas (September 2019). This piece is not your classic, clean and completed piece; my intentions were to give the viewer a sense of the destruction that took place. I wanted the viewer to feel the expression of this piece through my emphasis on lines and hue of color.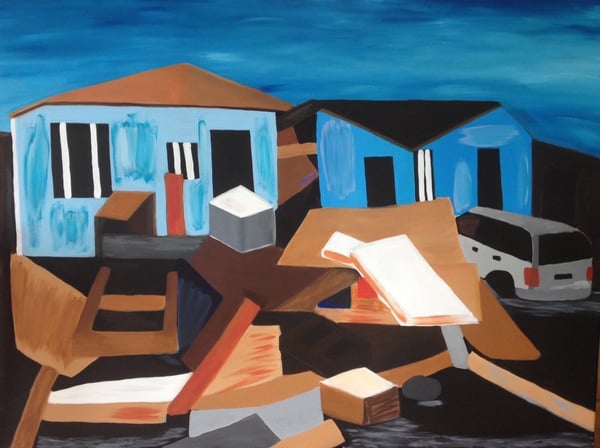 Figure 6:

Destruction
(September 2019)
Transfer and Watercolors on Poster Board, 28 cm x 36 cm
This piece spurred the following range of pieces of Hurricane Dorian. I completed this piece during the turmoil this Category Five hurricane placed upon my country. This was an expression of what I was going through as a native, far away from home watching it all happen. Along with my art, I also began a successful fundraiser to help support these brave families who made it through such a drastic situation.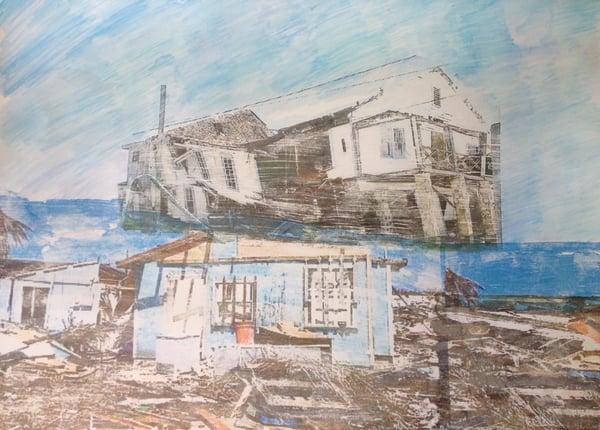 Figure 7:

Hurricane Dorian Study 1
(March 2020)
Acrylic on canvas, 23 cm x 28 cm
This piece is an up-close study of one of the homes in my larger Hurricane Dorian piece. In this study I wanted to give myself a chance to depict it differently and play more with color use. I also enjoyed using a fan like acrylic paintbrush to add texture and blend colors.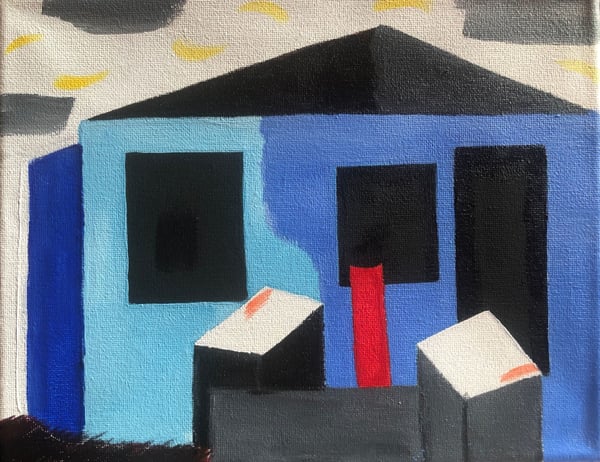 Figure 8:

Hurricane Dorian Study 2
(March 2020)
Acrylic on canvas, 23 cm x 28 cm
This is also a smaller study of the other home in my Hurricane Dorian piece. Within this piece I attempted to add a more animated affect through highlights and the hues of dark red and orange.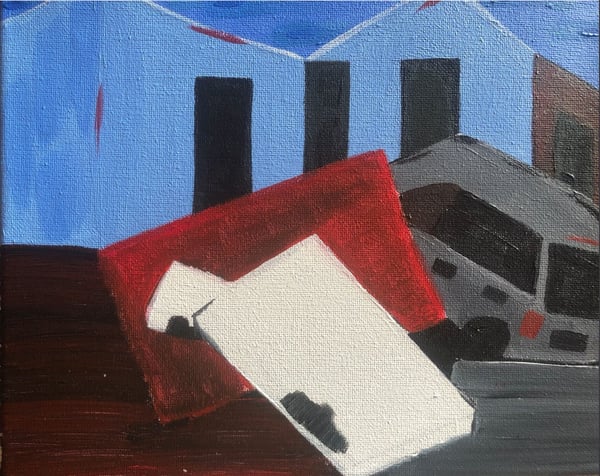 Figure 9:

Junkanoo
(December 2018)
Craft Piece (materials: crepe paper, jewels, feathers)
This piece spurred from the theme 'Life of the Rich and Famous' for our Bahamian twice-annual festival called Junkanoo. Junkanoo is said to be much more exciting than Carnival! Each group gathers at our downtown arena and shows off their individually crafted theme through their costume and banner designs. Junkanoo also includes a curated range of music by each group through multiple wind instruments, special drums called the goatskin drum and many more creative forms of sound. The color palette and décor of this piece was chosen from references to vintage magazines.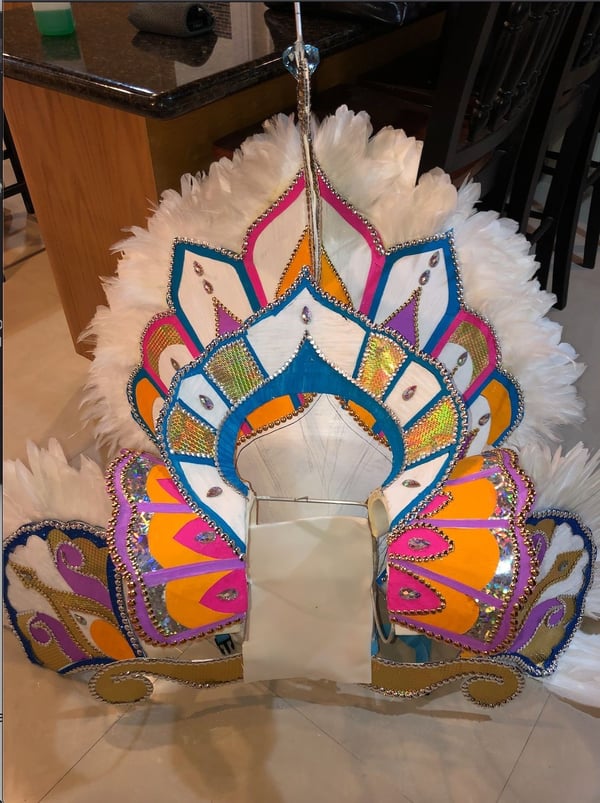 Figure 10:

Snow White
(December 2019)
Craft Piece (materials: crepe paper, jewels, feathers)
This piece was also for Junkanoo, but I decided to title it directly after my inspiration for this piece. The theme of this year was 'Disney' so I decided to use my favorite Disney princess, Snow White. You can see where I included accents of her dress through the colors, feathers and shapes used.