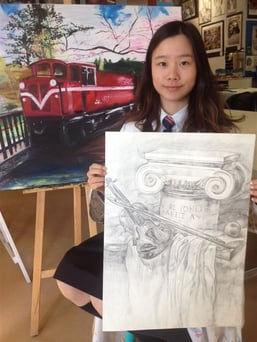 I hope you enjoy our virtual exhibitions. We admire not only our students' skills and creativity but also their courage in sharing their work with us. Please join me in congratulating our 2020 IB Visual Arts students on their hard work and achievements.
I would like to introduce IB Artist:
Yun Chi "Megan" Huang
I'm hoping that I achieved my own style in this body of work: spreading my feelings and ideas to the audience. I like something that is real and positive, especially in this world. Artwork could represent a diary of my life. I choose a moment in time that I am inspired and by using my creativity I try to express it to other people. My interest is realism, colour and texture, and I also want to share with everyone my inspirations by using a palette knife, oil paints and other media. The simple life events and people in my culture make me want to document and paint them.
I have been influenced by a jewelry designer "Aldo Cipullo". He is one of the designers in Cartier, and his work and designs inspire me. His most well-known piece is Juste un Clou. His designs are unobtrusive which are then transformed into a piece of art. Nails are a common thing, but he uses creativity and makes the unattractive alter into art pieces. I have also been interested in the use of colour and texture which was influenced by Impressionists.
Planning my exhibition, I want to set up my show in the order that it was completed. I felt that one work led and inspired my next work. I also hope that the audience enjoys and is inspired to learn more about my culture.
Figure 1:

Recognition of Me

(Self Portrait)
Medium: chalk on paper, size: 66 x 52 cm
This is the first drawing that I did in chalk and I really enjoyed the lines in my drawing, especially my hair. I accidentally took this photo from a strange angle. When I notice that it was different, I wanted to use it. I did struggle with the angle of the face but overall, I am pleased with the results. I was influenced by Degas.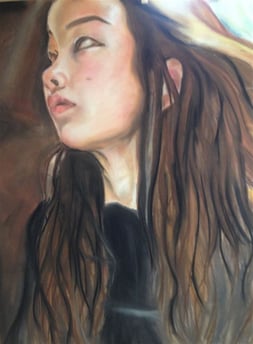 Figure 2:

Traditional Train
Medium: acrylic on stretched canvas, size: 100cm x 70cm
Alishan mountains are one of the famous sights in Taiwan. I took this photograph last winter and we can see Sakura beside the railroad. Alishan is also a small train and it is Taiwan's first mountain train which is not well known except for the local people. I used a palette knife in this painting to add the texture. This is one of my favourite paintings because of the remarkable memories of my childhood. Especially, the view.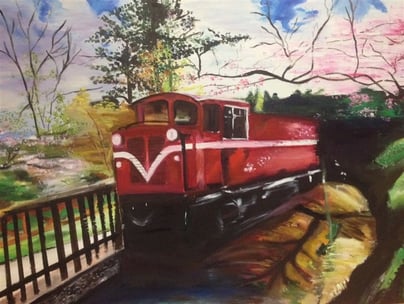 Figure 3:

Bricks and Girl
Medium: pencil and colour pencil, size: 27x39 cm
I wanted nostalgic memories for Taiwanese audiences. I chose to add yellow on the hat because it represents an old memory in our childhood.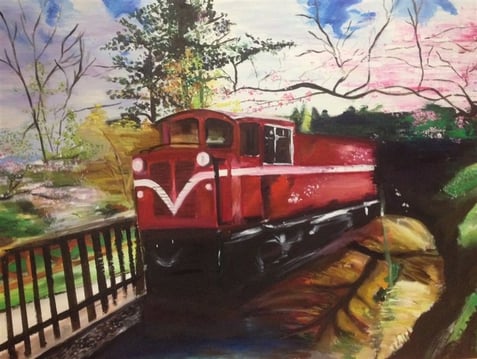 Medium: oil painting on stretched canvas, size: 40cm x 55cm
Family is the best thing in the world. It's something that should never be taken for granted. I chose to do this portrait of my Grandfather since I found this black and white photo not realizing that he was in the navy. I am very proud of him.