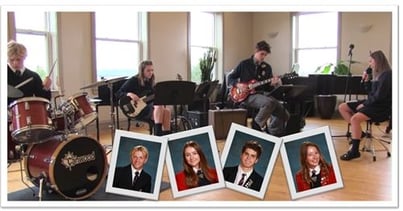 Last week I featured
Hidemi Sato
preparing a piano piece for the upcoming spring recital of my IB musicians. Please be advised of a change in the recital date: It will now be held on
Monday, March 2nd, at 7:30pm
. This change is due to a conflict with a public debate of our pending new amalgamated West Hants councillors taking place in the Fountain Performing Arts Theatre on the original date I gave last week.
Here is a glimpse of some of
Hidemi's
classmates also getting ready for their portion of the March 2
nd
recitals.
Katie Goddard (vocals)
and
Max Cole (guitar)
both tested out with SL Solo Performance in Grade 11 with marks of 5 & 6 respectively. They continue to study music in Grade 12 this year and are playing along side Grade 11 students
Grace Gallant (Bass)
and
Jem Logan (drums)
to complement a group. They are doing their best to arrange a varied collection of musical genres to prove their musical diversity when their recorded recital is uploaded to the IB examiner immediately following the March break. They are working on a bossa nova piece, a cool jazz number, a pop ballad, and Fleetwood Mac's 1977 hit,
Go Your Own Way
, plus others; it's a work in progress. This rehearsal video, taken yesterday, is a solid demonstration of talent and potential.
Enjoy.
Jeff Smith