Before our world got turned upside down, our KES Grade 12 IB Visual Arts students were scheduled to unveil their masterpieces at our Annual IB Art show on Thursday, April 2, 2020. It is always a highlight of the School year. Nineteen students were to present the projects they have been working on for the last two years. Their creations are examined and this is an important part of the IB Diploma. We admire not only their skills and creativity but also their courage in sharing their work with us. Please join me in congratulating our 2020 IB Visual Arts students on their hard work and achievements.
We will be highlighting our very talented IB Visual Art students each week in our Newsletter. I would like to introduce
Di (Stacey) Ao
:
Stacey Ao - Curatorial Statement
The purpose of my exhibition is for the audience to enjoy my artwork and for it to make a deep impression on them. Most of my paintings are from around my hometown, and I want to share my Chinese culture to help people be more knowledgeable about China. There are many wonderful things in the world, but we always overlook some trivial details.


The artist that inspired me the most is Claude Monet. He painted the same object continuously in different lights, time of year and angles. His artwork which was called 'de la Cathedral' gave me a lot if inspiration. For instance, in my transfer project 'An Ancient Street', I realized that I could approach my artwork focusing on light, instead of focusing on the details. Mixed media is different than painting, and I enjoyed this process. I use a lot of different media to finish my work such as acrylic, watercolours and oil paint. IB art is more flexible, and I can use my imagination and creativity to finish my work.


I had planned to exhibit my work in the order that I had completed it. I felt that one piece led into my next work. It is a pity that we didn't have the IB Art exhibition this year due to the Novel coronavirus pandemic, which makes me realize that the opportunity to share our artwork and appreciate the artwork of classmates was taken away from us. Also, I was not able to finish my painting which I was working on at the time. The focus of the painting was architectural buildings. This is one area that I was drawn to when I was choosing a subject.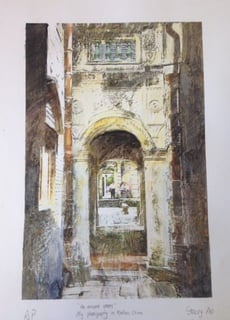 My photographic series 'Isolation', I did when I arrived back home to China. It was surreal that I was placed in such a beautiful environment when there were chaotic surroundings. I hope you enjoy this as much as I enjoyed doing the work.


Picture 1:

An Ancient Street

(October 2019)
Mixed media - Paper, Pencil, Acetone, and Watercolour. Transferred image.
Size: 41 cm x 51 cm
It is my photography and I took this photo in my city----Foshan, which is located in Southern China. This picture was taken in Lingnan Tiandi, and it represents my city's history which is called culture of Lingnan. There are lots of local restaurants in Lingnan Tiandi, and both local people and visitors like to have meals there. I wanted to work with this image using transfer methods, so I made a copy and used mixed media.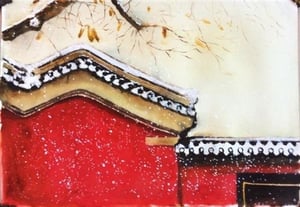 Materials: Watercolour on paper
Size: 41 cm x 51 cm
I have always been interested in architecture. I wanted to capture part of a traditional Chinese building in this watercolour. I focused on an architectural element that is very common in traditional Chinese buildings.
Pictures 3-7: Isolation, China 2020 (March 2020)
Material: Photography- Iphone xs max (Series of Isolation)
Size: 20 cm x 26 cm
I took these photos in a hotel in Xi An, China during the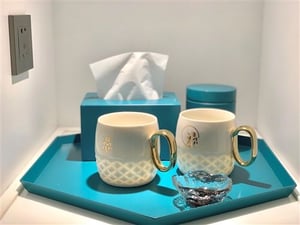 quarantine. The design style of this hotel was modern which made me feel comfortable. I took photos of different parts of my room and some small objects like the cups and the telephone. Although I could not go outside for 14 days, I found many things to do in my warm and sweet room, such as drinking tea. The view outside the window was Chinese apartments. This has been an incredible experience.

The wonderful thing about striving to be more is that you never know where you might end up. Through our International Baccalaureate Programme, our students are able to pursue post-secondary education almost anywhere in the world. Download our IB Guidebook here.