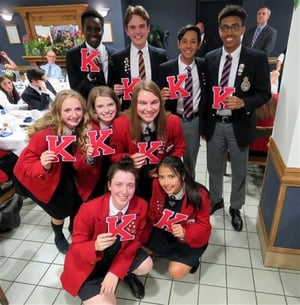 Our inaugural "Multiple Varsity Athletic Award" was presented to first-team, multiple-varsity athletes at our Annual Athletic Banquet on May 28th. Qualified student-athletes were presented the "K" letter in recognition of their accomplishments, recognizing excellence and commitment to the King's-Edgehill School ideals of "Being More", and distinguishes the dedication of KES student-athletes to varsity athletics. This new award will be presented annually to the students who applied and met all of the criteria.

Varsity Athletes represent their KES team/individual in competition with other high schools at the highest division in league competition. Leagues that our School presently participate in include the NSSAF, NEPSAC, NAPHA and PSHF. Students must participate in varsity programmes (competed in the majority of the competitions) in 6 varsity sports (or equivalent) and must participate in varsity sports in all three terms in the year presented. The student must participate on a KES designated individual or team sport and competed in the championship qualifying process of their league (unless due to injury or impeded by actions out of his/her control).

Congratulations to the first 9 recipients of our KES Varsity "K"! (back L-R): Brisnol Etou, Nicholas Cheverie, Luis Espinosa, Jarred Douglas; (middle L-R): Amelia Humphrey, Kathleen Balcome, Téa Racozzi; (front L-R): Madelyn Walsh, Kyra Jarvis

Achievements like this make parents so proud. We find that most parents of King's-Edgehill students are happy to help out whenever they can and are eager to answer any questions prospective parents might have.