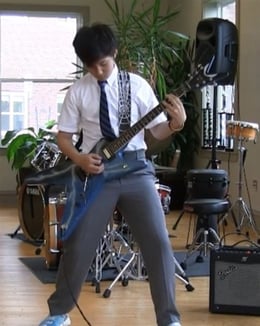 During our faculty professional development days, I was approaching an afternoon session being held in the theatre, when I heard Crazy Train booming loudly in the Concert Hall. I thought it was a recording and it was, with one exception: playing the lead guitar part (and shredding it like a pro) was one of our new Grade 9 International students, Qili (Jason) Hu, from Taiwan. He absolutely nailed every chord and riff exactly like the original recording. I asked Jason to give you his comments, which follow, and I ask you to watch a clip of Jason playing with an accompaniment track and witness his talent and enthusiasm for Heavy Metal music.

"My name is Jason Hu. I have been learning electric guitar for six years, and I have the super biggest dream to create the most famous heavy metal band in the world! When I was young, I heard a music band, named Pantera. There was a super crazy guitar player named Dimebag Darrell, and their music is super cool and crazy! So, because I have my dream, I started to learn guitar!!! My motto is 'Never give up!'
You'll find countless opportunities to express your artistic interests at our School. The arts make up one of the essential four pillars of a King's-Edgehill School education.