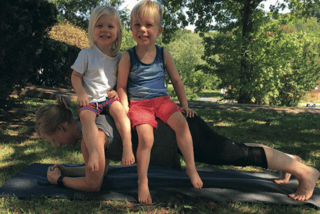 After leaving KES, I attended STFX where I played on the Varsity Rugby Team and won a National Championship. Sports have been my passion for as long as I can remember, so when I discovered there was a degree I could take in University that would focus on exercise and sport I figured that would lead me to a successful future.
After graduating, I followed my parents down to the Sarasota/ Bradenton area of Florida on the Gulf Coast. I learned I am passionate about helping and teaching people so I became a certified personal trainer. I spent almost 9 years at University Park Country Club as the Fitness Manager and Personal Trainer. In addition to overseeing the day to day operations of the Fitness Centre, I also ran the group fitness programme, and designed monthly health challenges for our members. Most of my days were spent helping sedentary individuals become more active, teaching golfers how to activate the proper muscles to gain more yards in their drive, or helping Parkinson's patients improve their strength and balance while delaying their disease progression.
I have been blessed to change people's lives by improving their health and building personal relationships that will last a lifetime. The most important thing I would tell people who are trying to figure out what the want to with their lives is to do what makes them happy. Find your passion, if you love what you do, your job will come easy and your life will be better for it. My husband and I recently decided to do just that and moved to Nashville with our two little boys. No, not to pursue a career in music but to be in a city that makes us happy where we can enjoy the outdoors and be more active. I have started working with a personal training company as an independent contractor and am enjoying growing my business in a new city.
I believe that exercise can save lives and no matter where I am in the world, health and fitness will be a part of me for the rest of my life.