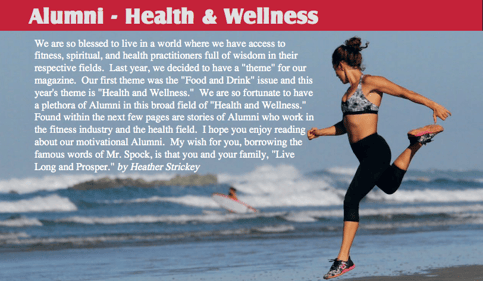 It was somewhat surreal sitting down with Jill Payne (1996-2002) this past July. We were two women meeting and having coffee; however, part of me still sees Jill as the teen I taught History and coached in Basketball. Basketball was not the only sport in which Jill excelled. In Jill's Grade 12 year alone, she was awarded the prestigious titles of Scholar/Athlete and Senior Athlete of the Year for her outstanding skills and contribution to Soccer as Captain of the team, to Basketball as Captain of the team, to Track and Field as the Provincial Champion in the Javelin and to Rugby where she scored nearly 100 points herself on her first attempt at this sport. After high school, Jill went to the Canada Games as a paddler and played Rugby at St. FX (where she was named Rookie of the Year). This warrior athlete went on to play Rugby at the National and International levels.
Jill studied at St. FX initially and later was granted her master's degree in Exercise Science at the University of Victoria. Jill also completed a teaching degree and taught for a while. However, it was when she visited Costa Rica and fell in love with the land and the surfing, she decided to change things up. She took a job as the Director of Academics at an independent school on the beach in Costa Rica. The man who owned the School also owned some fitness centres throughout Costa Rica and soon Jill and he were business partners. There was an empty "rancho" (building with no walls) near Jill's school and Jill started using it to teach a fitness class. Her partner located some exercise equipment (very minimal) and soon her one class turned into many group classes and personal training. Jill quickly focused full time on her fitness work.
Jill's plate runneth over. She trains some very well-known celebrities (check out her Under Armour ad with Gisele Bundchen), she travels spreading her fitness message, she runs group fitness classes, she is in negotiations with Under Armour, and she designs programmes for the app, "Energi Coach" used by executives in Fortune 500 companies to add movement into their hectic lives. Some of Jill's most rewarding moments in this field have come from seeing clients experience the shift in how they view themselves and their bodies. Jill's mantra is to be a "Spiritual Athlete". Her website, https://spiritualathlete.life/, focuses on "intentional movement" by improving focus, relieving stress, and increasing energy. The fitness industry thrives on promoting our insecurities. Jill's approach is based on working toward feeling the way you want to feel and not focusing on losing pounds and building 6 packs. The focus is on creating more energy as having more energy will change your life and will allow you to accomplish your other goals. Jill travels throughout North America hosting her spiritual athlete workshops. She was in Victoria, Vancouver, and Calgary this fall!
I asked Jill if she had any piece of advice to share and her immediate reply was, "Find things that increase your energy and then let these things determine your path." What wise words from the woman who epitomizes the phrase, Spiritual Athlete.