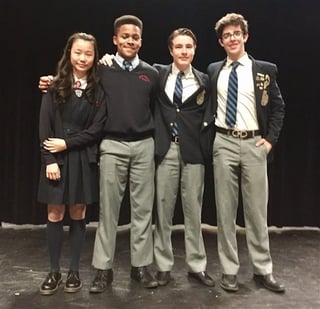 The Grade 9 junior achievement component this term saw students participate in a stock market simulation over the course of 6 weeks. Students learned how to research stocks and to follow their progress throughout the trading day while picking up some stock market lingo. There were also several classes spent discussing how to be 'money smart', what constitutes good and bad debt, and how one should be business savvy. The students came up with their own business ideas and pitched them to the class representing possible investors; quite interesting and impressive ideas! Over the course of 6 weeks of buying and selling stocks synced in real time with the stock market, many groups were able to profit with their $100,000 budget. While more than half the teams were profitable, the 'West Side Richie's' were able to grow their equity by nearly $10,000! This impressive result meant daily trading and keeping a close eye on their stock watch list.
Megan Huang, Andrew Atwood, Mario Villafuerte, and Diego Valdes
(pictured here) ranked 96th of 1651 teams across Canada, and #1 in the province! Well done team, and watch out Wall Street!
Marcel RochonJunior School French & Sciences HumainesKarate Instructor & Snowboarding CoachHouseparent of Upper Inglis


Our students love to learn, and we know their parents do too. Read our blog, Inside King's-Edgehill School, to learn more about what we're discovering, creating, thinking and becoming at KES. Read the latest issue here.