Thursday, October 31st, was anything but a usual day on campus. In fact, it was a "dress-up" day instead of the more conventional "dress-down" day, and the theme was Hallowe'en! The fun began first thing in the morning as witches, hockey players, hippies, Harry Potter, Spiderman, a marionette and other ghoulish creatures made their way to first class. It was our annual Junior School Hallowe'en spooktacular and, after a uniquely productive day in the classroom, all students gathered in the Athletic Centre for the "Annual Hallowe'en House Competition".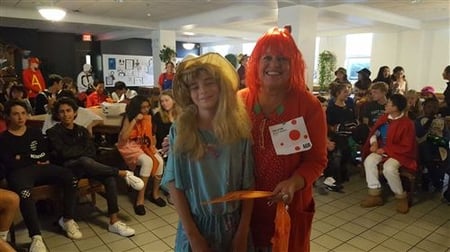 The parade of costumes was impressive but the judges recognized the following students in the annual costume competition:
Grade 7: 1st-Alex Graham, 2nd-Ezra Sasaki, 3rd-Cooper Pape
Grade 8: 1st-Sabine Wellard and Nikki Kolla, 2nd-Joe Power, 3rd-Keira Gass-Lachance
Grade 9: 1st-Quentin Knauf, 2nd-Ava Lovelace and Georgia MacKinnon, 3rd-Zach Logan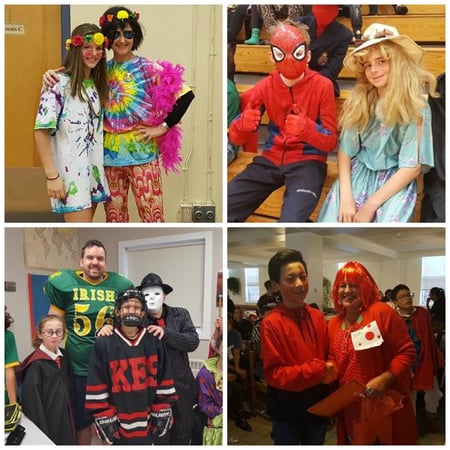 James Griffiths
, Nikki Kolla and Hannah Stilwell almost shattered the glass in the entranceway with shrill sounds as they competed in the best scream contest, where they earned first place in Grades 7, 8 and 9 respectively. Laughter echoed throughout the gymnasium as students performed their best death scene; 1st place for Grades 7, 8, and 9 went to the teams of Alex Graham and Artem Dorofeev; Keira Gass-Lachance, Emily Mei and Tanvi Manchineni; and Ed O'Neill, Zach Logan and Greyson Corbett-Lumb. The most maniacal laugh contest was won by James Griffiths and Sabine Wellard. The fun continued with organized games, a photo scavenger hunt, and a pumpkin carving competition that was won by Sidney Schwartz and Jessica Ugwoke, with the team of Ed O'Neill and Nate Montgomery finishing second. At the end of the day, everyone agreed that it was a Halloween party that we would all remember. Special thanks go to our Junior School Prefects Ella Brown and Grace Fillmore, and to Grade 9 leadership students Hannah Stilwell and Allie Pape for creating Halloween treat bags for every student who took part in the day's events.