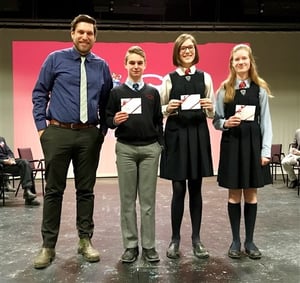 Poetry limbers up the imagination and is a true art form that packs emotional punch. We saw first-hand the power of poetry in our Junior School Assembly last Wednesday, January 30th, when eight finalists from Grades 7 through 9 stepped forward to recite their chosen poems.

Congratulations are extended to William Ahern, Hannah Bryant, Taylor Cole, Harrison Klein, Emily Norton, Sachaa Rudrum-Bhimji, Jessica Ugwoke and Sabine Wellard; they can each be proud of their efforts to stand before the entire Junior School and confidently present their poem. The range of styles and deliveries kept things interesting. You could hear a pin drop as students recited their chosen poems, making us think carefully about the power of the words and the messages conveyed. The judges did not have an easy task to select the winners; however, they did single out the top three performances for the 2019 Junior School Poetry Competition (3rd, 2nd, 1st, respectively): Harrison Klein, Taylor Cole and Emily Norton. The entire School was entertained at this week's Full School Assembly as Harrison presented "Jabberwocky", Taylor, "Social Media" and Emily, "A Million Pieces". I congratulate and thank these students for sharing their passion with us and starting our day off in such a creative and thought-provoking way.
Achievements like this make parents so proud! We find that most parents of King's-Edgehill students are happy to help out whenever they can, and are eager to answer any questions prospective parents might have. Let us know you'd like to connect with a current parent.