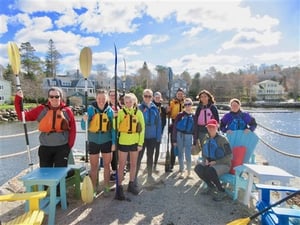 The beauty of Nova Scotia never ceases to amaze anyone who has the opportunity to be outside in our spectacular natural landscape. Eleven students and staff had the great fortune to kayak and hike on the South Shore a couple of weekends ago in Chester, Blandford and East River. This was a Duke of Edinburgh Leadership trip coinciding with the Cadet Star expedition programme which requires two modes of transport.
Our planned kayak tour was definitely eventful because we did not plan for the winds to pick up as they did. We had some double and single boats out and everyone had to do some strong paddling. It was fantastic to see everyone's skills improve by sheer necessity.
After a stunning, rocky cliff and shore-line hike in Blandford, we basked in the sun while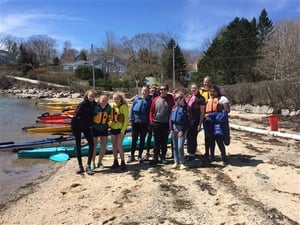 eating large ice-creams before hauling on our knapsacks and starting down the Rail to Trail at East River towards Castle Rock. The weather couldn't have been more beautiful and cooperative as you can see in the pictures. However, the reality of camping at this time of year is battling the ticks. They were large, menacing ticks which we picked off each other and shuddered each and every time. Large enough that I heard several times, "These ticks are on steroids!!"
It is wonderful fun forming a new friend group and learning about each other's mutual interests.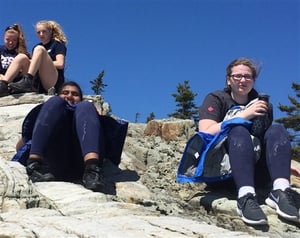 Myth - Boarding schools are somber and lonely. The King's-Edgehill motto is "Be More." We promise to challenge your child to achieve the highest level of achievement and excellence in all areas of life and personal conduct - all while having fun and making lasting friendships. Download our Myth Busting eBook to decode more boarding school myths.