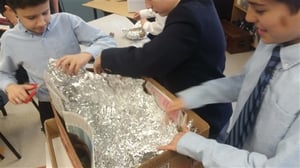 Last week the Grade 7 students met for their first science challenge of the school year. During a science challenge day, students are introduced to new science ideas and then challenged to apply these concepts to a novel problem. This challenge was all about: insulation and heat transfer. Students researched how heat moves, how it effects biology and how these ideas have been used to create new technology. Then came the challenge; each group was provided with cardboard, tape, plastic bags, newspaper, string and aluminum foil and were asked to build a structure that could insulate a 600 gram block of ice, preventing it from melting overnight.
The groups got right to it and after much cutting, shredding, taping and retaping, the blocks of ice were sealed into their creations. The following day the teams' containers were opened and any remaining ice was removed and weighed. Fox Sullivan, Jose Maria Sanchez and Papa Ofori's team won with 24 grams of ice remaining in their container. All the groups are to be congratulated for their great cooperation, excellent problem solving and consideration and application of the principals that they learned. Well done, Grade 7!
"Well that looks fun, but what time will I have to go to bed?" If you know a child eager to apply but with questions still looming, flip through our downloadable photojournal, A Day in the Life of a King's-Edgehill School Boarding Student.