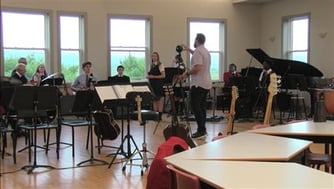 Last fall, our Recruitment Team approached me with the idea to produce a virtual reality tour of the campus which they could take on their recruitment trips. What ensued shortly after was a series of videos featuring various aspects of our campus and programmes; our Music Room being one of them. I was amazed at the technology of their expensive 3D camera but somewhat dubious of the endeavour itself. My IB Music class agreed to participate in the project, and the film crew arrived to the concert hall one morning and gave us instructions. I decided to set up our own video camera to record the process, for interest sake. If you've ever been involved in a recording process, you will know that whatever is trying to be achieved, is seldom done on the first attempt. We did our best and the crew left to assemble the various recordings into the virtual 3D tour hosted by select students. The end result is impressive, I admit, and perhaps someday you might have a chance to see it for yourself. I hope you enjoy the opportunity to witness some of the process with this video. Be advised that with exception of the actual shoot each time, the students are not acting but behaving normally and things are as they usually are in my classroom. With that in mind, I hope you will agree that school can be a lot of fun, even under pressure.

Click here to watch the video.
You'll find countless opportunities to express your artistic interests at our School. The Arts make up one of the essential four pillars of a King's-Edgehill School education.