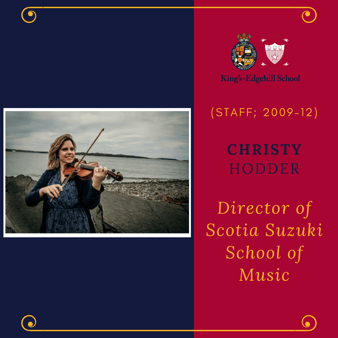 I am very honored to have had an opportunity to be a teacher at King's-Edgehill School for a few years and live on campus with my family. My husband, Mark, and I had the privilege of being house parents for a dozen junior boys at the school. It was a fun and special time for my family. Like all life adventures where you bravely embrace a change, we met and made life- long friends and we learned and experienced new things that molded us into better people. This unique time of our lives also gave us experiences that opened doors for future adventures together with these amazing friends. At KES, our whole family was involved in the arts. I taught a world dance class where we Scottish country danced in tartan sashes, line danced in cowboy boots, belly danced with jangling colorful skirts and African danced in headwraps. We had a real posada and even learned ballroom dancing so we could jive at a formal event with a live band. We ran a "weekly choir and cookies night" and sang in the local music festival.
We even convinced Headmaster, Joe Seagram to sing a solo as the Wizard in The Wizard of OZ! It was a very memorable and rich chapter in our lives! Now, we have all moved on. We opened our own music school last year in Halifax, the Scotia Suzuki School of Music (scotiasuzuki.org). Here at our school, we teach using the Suzuki method which is learning music like learning a second language. It's a progressive, beautiful and very intelligent way to learn, starting even at birth. Right now, we have grown to 14 teachers and over 200 students. I often find myself in a situation that reminds me of something I learned or experienced in my time at KES. I am grateful for that knowledge and inspiration I gained there. My advice to everyone is to embrace an opportunity that comes your way and always look for opportunities everywhere you go. Never say, "no" to an opportunity, act on your ideas, always say, "Yes, I'll give it a try," even if it seems scary or too hard.
How much has KES changed since you were here? Find out. By staying in touch with us and your fellow alumni/ae! There are lots of benefits to staying connected. Have a look - right here.