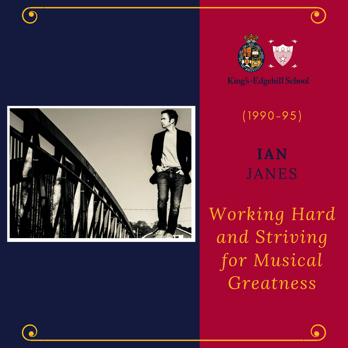 I came to KES part way through Grade 8 and stayed for the rest of high school. My parents felt I needed to be in a school that would foster my musical development while having small enough classes to make sure I kept up with my school work! KES allowed me to have my life centred around music, while keeping me adequately engaged in my studies. I played guitar and saxophone in school bands, was in the pit orchestra and production assistant for musicals, sang and played at school coffee houses, did sound for special events and many other activities that kept me engaged and prepared me for my career path.
I began a music degree directly after high school, but left after a year to travel. Shortly after, I began making my first record, Occasional Crush. Ever since I've been making music and writing songs; supplementing my income with construction work, income properties and buying and selling real estate as necessary to support my family. My motivation has always been to work hard and to strive to get as close to "greatness" as is possible. It's all about constant improvement and learning to enjoy that quest because it never ends! There's always more to learn. Just keeping up with the technology and industry trends is a constantly moving target. Over the past few years, I've been investing a lot of time in travelling to write and network. I've been to LA twice and Nashville 9 times in the past 3 1/2 years. There's no substitute for putting yourself where the game is, and those two cities are the centres of the global music industry. I'm headed back to Nashville in September for co-writes, meetings and a few shows, then Vancouver and Los Angeles in October for more of the same. I am also working on recording a new record for release in early 2019.
My advice for KES students is:
» Do what you feel most passionate about.
» Don't ever think that talent substitutes for hard work. Hard work always wins. » Don't base decisions on making money. You'll figure that part out as you go.
To view Ian's recent performance on The East Coast Music Hour, please check out this link: https://youtu.be/Pp0R51n-fh8

How much has KES changed since you were here? Find out. By staying in touch with us and your fellow alumni/ae! There are lots of benefits to staying connected. Have a look - right here: