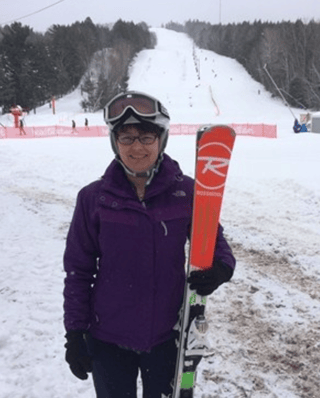 The Head Coach of the King's-Edgehill School Alpine Ski Team,
Mrs. Mary Ann Dufour
, recently advanced to
become a
Canadian Ski Coaches Federation, Development Level 2 Coach!
Mrs. Dufour was an elite skier as a teen and represented the Martock Ski Race Club and Nova Scotia at many provincial and Atlantic competitions, with top finish results, including her participation at the Canada Winter Games.


After joining the faculty at KES, Mary Ann Dufour soon took on the Head Coach position of our
varsity ski programme
, and she has been instrumental in the ongoing development and success of the athletes. In her tenure at the School, her teams have advanced to the NSSAF Provincial Championship Competition every year, and stood most of them on the podium. The Team affectionately calls her "Ms D."
Congratulations, Ms D; your determination and success are heralded by all, and the future of the KES ski team is in excellent hands. We applaud your accomplishment; yeah, Ms D!