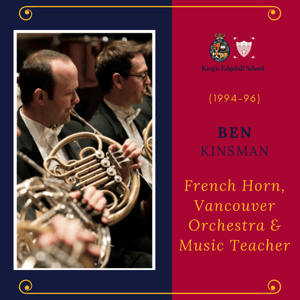 When I look back on a 20 year career as a professional musician, my first thoughts are of gratitude and satisfaction for having been able to do just exactly what it was that I wanted to do. I knew it wasn't going to be easy, but I was so full of a passion for music and a drive to succeed that I buried the self-doubt beneath piles and piles of music and pushed my anxiety to the side while I tried to satisfy my insatiable appetite for success and improvement. Music was fun and making music with friends was even better. I was fortunate to have excellent teachers and I quickly realized that the better I played the horn, the more doors and opportunities opened for me.
Next, I found myself at King's-Edgehill School. A place where the diversity of the student body was only exceeded by the diversity of the programmes available to us. At every turn, there was something new to try and experienced Faculty to show us the way. Soccer, rugby and biathlon took much of my time but not so much that I couldn't contribute to the Cadet Programme, band, jazz combo and musical theatre. At KES, I met some ridiculously talented people in all disciplines... especially in the arts. The musical momentum of high school carried me through a Bachelor of Music degree at Acadia and Masters degree at the New England Conservatory.
By 2001, I was thinking hard about, and preparing for, auditions with professional orchestras. I auditioned for a spot in the Vancouver Symphony. This new job was my chance to begin my life, personally and artistically. I began working and teaching in Vancouver. My symphony position was an in-road to gigs of all types. Orchestra and chamber music, solo engagements, Broadway shows, movie score and video game score recording sessions, and television. My reputation would get me a phone call but the call-backs I earned by doing my best to be not just an exceptional horn player but an exceptional person and colleague as well. I got married, had two kids, and as I matured as a person, I also grew as a musician.
Suddenly, something happened that I wasn't expecting. After 15 years as a symphony musician, teacher and freelancer, thousands of concerts and recordings, travel, trips and tours around the globe, my life and priorities had changed and evolved but my job and obligations were beginning to interfere with being a dad and husband. So, I decided to walk away from my position in the Vancouver Symphony Orchestra and
began teaching at the University of British Columbia.
As a teacher, one of my personal rules has always been that I will never tell a student what they can't do. A significant issue that arises when we pursue our passions is that we tend to become myopic and lose sight of the big picture. Trying to temper passion with pragmatism seems a bit of a contradiction, but herein lies my advice for anyone who finds themselves on a similar path to the one on which I travelled. Develop your whole self, pursue many interests, and you will never fear change. On the contrary, you'll be able to embrace it. If you can adjust, you can move forward, always. Sempre Avanti.
Many of our alumni are keeping their KES experiences alive! Connect with KES classmates and reignite the School spirit.