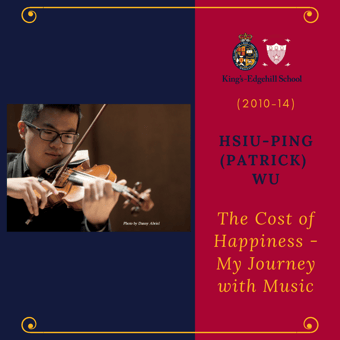 "If music be the food of love, play on." That was what William Shakespeare expressed in his play Twelfth Night. To me, music is not only a food of love, it is an identity, a way to express oneself. To do so, one must first have a picture, and the persistence to hold on to the paintbrush. I started to learn both the piano and violin around 6 years old, which I really enjoyed but stopped playing due to the heavy amount of school work within the Taiwanese school system. Things changed after my arrival in Canada, where I was introduced to popular music, unlike the conservative environment that I have experienced in Taiwan, I was opened to a new world where people play music for fun, and to express their own feelings. I decided to pick up my violin again so I could re-learn the classical foundation that I had missed for a long time. Learning the basic techniques was not easy, it was disappointing and frustrating. Since I started late, that meant there was a lot of extra work to catch on, but to me, playing my instrument was one of the best feelings ever. During my time at KES, I was able to play in musical pit bands, start my own band, and was fortunate to join the Nova Scotia Youth Orchestra, which very much influenced my classical playing; however, what really pushed me into studying a music degree was a conversation I had with guitarist Ryan Roberts
(1994-96), before my first Solo Violin Recital in Grade 12. Ryan and I sat down at a local café after a rehearsal because I was struggling to make a decision of pursuing a music career and hoping he might offer me some insight, I asked if he had a dream when he was in my age. He said, "Yes of course, I've always wanted to become a solo guitarist." I asked, "How did you make your dream come true?" He replied, "When I was in college, my parents forced me into dentistry, the degree got me a well-paid job as a dental assistant. I was able to buy a Mercedes after getting married." "Were you happy?" I asked again. Ryan paused, and slowly replied, "No, I wasn't, as I never forgot my music dream. I started to feel happiness again when changing my Mercedes into a second-hand car." He started laughing, "Happiness has a cost," Ryan said, "The cost is persistence," as he finished the rest of his coffee. After the conversation with Ryan I decided to pursue a music career. I enrolled at Dalhousie University to start my music studies, little did I know, I was too naïve to realize that I still had a long way to go in music.
My studies at Dalhousie were equally disappointing and frustrating, seeing how great the others were but how little I progressed was such a heart-breaking experience. However, I never forgot what I was there for, I made sure every year I progressed, and took every opportunity to express and perform my music. My desire for music grew every year as I discovered my ability to compose in my second year. Studying composition became another passion of mine when I found a new way other than performance to express myself. At the same time, I also discovered that my persistence and practicing was paying off when I began to be accepted to music festivals these past couple of years. Since summer of 2014, I have participated in at least one music festival each summer, but in summer 2017, I had an intense, but amazing, experience participating in four festivals (Three as a violinist and one as a composer): Scotia Festival of Music in Halifax, National Taiwan Symphony Orchestra Camp in Taiwan, highSCORE Composition Festival in Italy, where I premiered a brand new piece for clarinet and piano at the "F. Vittadini" Higher Institute of Music Studies; and the Nova Scotia Youth Orchestra Summer Program in Halifax. One of my fondest memories during my music studies is to participate and organize at the Nocturne: Art at Night Festival. Nocturne is an annual art festival that transforms downtown Halifax and Dartmouth into art venues. In 2016, I decided to mount my own Nocturne project: Voyages by using original film and improvised music. During that summer, I shot my first original film and also composed my first film soundtrack with my colleagues Roland Smith and Packer Woo. Voyages was premiered at Cathedral Church of All Saints with the performance of Society of Dalhousie Music Students. We were visited by approximately 900 viewers that night.
I am very grateful for this opportunity because mounting a Nocturne project not only taught me to create and compose for a film, but was more about work behind-the-scenes: from writing project proposals, planning budgets, technical support, promotions for the performance, and organizing a large group of performers for this project. These were experiences and lessons that I treasured after completing Voyages. Music is a way for me to express myself. As a performer I try to convey my feelings in a performance. As a composer, I try to document my expressions on manuscripts; however, I will not be here without persistence and patience during my music studies. I gained experience from recitals, orchestra rehearsals, and producing a project. These are all my ways of expressions. Even today, I still remember that conversation of the cost of happiness. I would like to thank my IB Music Instructor Jeff Smith, violinist Karen Langille, and guitarist Ryan Roberts, for their teachings and inspirations during my studies at King's- Edgehill School.
You'll find countless opportunities to express your artistic interests at our school. The arts make up one of the essential four pillars of a King's-Edgehill School education.