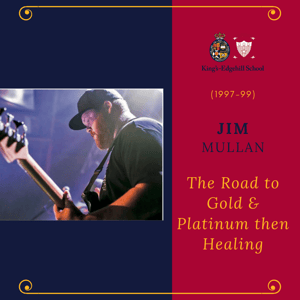 Like most, my musical journey began when I was a child. The Fisher Price record player I inherited was my first true love. Music was always on in our house and our family gathered around a fire with guitars and a choir of harmonies every weekend throughout my childhood. After starting a band when I was 12, I quickly realized music was something that I loved and that I was actually good at it, unlike many of the sports I grew up playing. I was admittedly reluctant to follow my two older sisters to King'sEdgehill but after watching Ian Janes (1990-95) and his KES band perform at a local battle of the bands, I knew that KES was the perfect place to prepare for a professional career in music.
After a successful audition with my fellow KES band mates, I decided to pursue a diploma in jazz studies at St. Francis Xavier. After graduation, I moved to Montreal to form a band comprised of fellow jazz musicians who were more interested in the stylings of Motown than the jazz standards we had to play in school. After three years of writing, recording and performing with a variety of musicians in Montreal, I decided it was time to find a day job that could help support a struggling artist's wages.
Once I returned home to Nova Scotia to study architectural engineering, I began working closely with Canadian Hip Hop legend Classified and a number of the artists he would produce. Eventually, I started co-writing with him and others who would come through the studio such as Ria Mae, David Myles and Elijah Will. I was a co-writer on a Ria Mae record that went gold and eventually platinum in Canada called "Clothes Off". That record was followed up by another co-write called "Ooh Love" by Ria Mae that also went gold in Canada. While touring with Classified, I had an accident and broke my neck and drowned in a hotel pool. The band saved my life by performing CPR before I was rushed to the hospital where they discovered I broke two of my vertebra, C6 and C7, resulting in a spinal cord injury. I needed to have my neck fused with two titanium roads and ten screws. I ended up on a ventilator for a number of days as I was unable to breathe on my own due to the fact that nothing below my neck was working properly, if at all.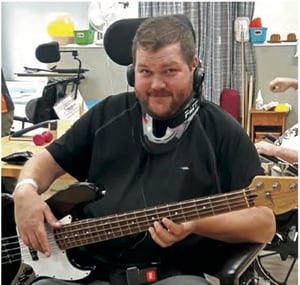 After 78 days of intensive rehabilitation, I was able to relearn how to walk well enough with a walker that I was able to fly back home to Nova Scotia. I also had to relearn how to play bass guitar, guitar and piano as my hands were far from functional after my injury. While it's not all "back to normal", it brings me so much joy and gratitude to be able to play like I can now after sustaining such a traumatic injury. I have returned to performing live with Classified and have done a number of recording projects since my accident including co-writes on many of Classified's latest material including "She Ain't Gotta Do Much" which has recently been getting lots of radio play across the country. Additionally, I started doing Artist Management for Classified's record label and managing Elijah Will, the most recent addition to the team. I'm also got married in July to my extremely talented fiancé Amanda LeBlanc who is a gifted performer herself. I'm looking forward to life filled with music and hopefully a few more gold records to put up on the wall.
Stay connected to the great friendships and experiences that started at King's-Edgehill School. Find out how here.