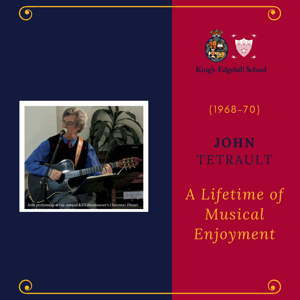 I attended King's College School in the late 1960's and was one of Mr. Guy Payne's early track and field champions. I was a bugler in the Cadet Band and spent my dorm time learning Beatle licks. After graduation, I went to Carleton University and earned an honors degree in Philosophy. I studied guitar and worked as a musician throughout university. After moving back to Nova Scotia, I continued to (play) perform in the region. I have released four albums of original musical and two with the award- winning band, Swingology. I started teaching guitar at KES in the mid- 1980's, and grads I have mentored are working throughout the musical world. Music teaches us to be operative and requires discipline and focus. For me, it has been a lifetime of enjoyment. Not everyone will become a professional, but everyone has access to the pleasures of making music. Do I regret taking Philosophy? Not at all. I use it every day. If you can understand how someone thinks, you can understand how they learn. It continues to be an honour to be able to work with my friend and patient colleague, Jeff Smith.
Check out http://grapevinepublishing.ca/6185/new-tunes-john-tetrault for a sneak peak of John's new CD entitled, LOVE/UNLOVE.
Our students – past and present – make King's-Edgehill School great. We'd love to stay in touch with you, and ensure you stay in touch with each other. Have a look at all the benefits of staying connected here.