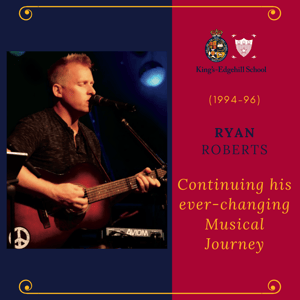 Ryan Roberts came to Kings-Edgehill School from Glace Bay, Nova Scotia. From an early age, he was interested in music but, it was not until he moved to KES that he began writing his own songs. His house parents were Mike and Linda (Walsh) MacDonald (1971-72). They saw his musical interest and began feeding him on a steady diet of classic folk music. It was here that the early singer-songwriter influences of guys like Paul Simon and James Taylor planted roots.
Ryan's first performance was in the School cafeteria during the Headmaster's dinner. Upon graduating, the MacDonald family gifted him their household piano and encouraged him to explore the world of coffee houses while attending Dalhousie University; where he studied science and graduated with "Plan B" as a Dental Hygienist.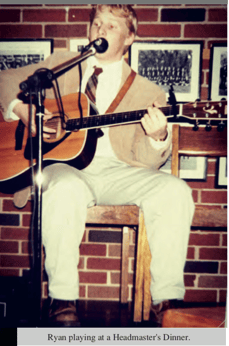 After 5 years of University, he decided to take a year and spend 12-15 hours a day studying music and writing constantly. While networking with local Haligonians, he found others who wanted to record his songs and this served as an introduction to the world of music publishing. To date, his songs have been recorded by more than 50 artists around the world.
Ryan was recognized as the 'Songwriter of the Year' for 5 consecutive years at the East Coast Bluegrass Music Awards and seemed to gravitate to the world of country and roots music. Though his "Plan B" day job offered security, his passion for storytelling through songs led to early retirement. He gave notification and left the Dental world to pursue music full-time. He landed an audition for a touring band in Nashville, Tennessee and got the gig.
This is one example of great friends doing great things at King's-Edgehill School. If you're an alumnus/alumna eager to re-connect with some of your KES friends, there are events going on all over the world. Find out more about that here.