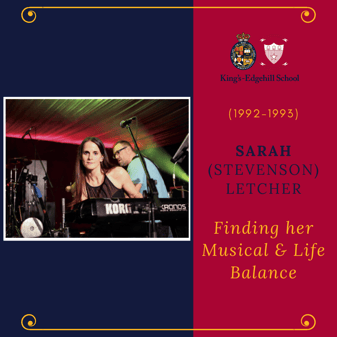 I feel very fortunate that I was able to go to KES for my graduating year - one very memorable year. Some of my best friends today are those who I met at KES. I actually went to play basketball and soccer and to get a more structured education in preparation for University. There was no music involvement at all unless you count those daily visits to Chapel with one of my best friends and fellow alumni Lucy (Trull) van den Brink (1990-93). We met at KES and began going into the Chapel to sing acapella. Neither one of us was keen on singing in front of a crowd at the time, so this was a great substitute.
I loved KES - there was always this palpable energy. A community or family within a school. Obviously, you have the normal ups and downs of high school, but it was more positive than not. I loved the scheduled activities post class (athletics built into my day was a dream) and, honestly, not having to worry about what to wear every day was a blessing. Looking back, especially with what I do now, I do wish I had taken music, or participated in band in some way, but at the time it wasn't my thing. I loved to sing, but wasn't confident enough to join in any musicals or coffee houses. After leaving KES, I moved to Halifax and worked there in catering and at the WAEG as a server for the summer before I went to Dalhousie University to take Kinesiology, then on to Northumberland College to become a Registered Massage Therapist.
In my third year at DAL, I met a handsome guy (who is now my amazing husband) at the gym. He was a musician and asked me if I would join him on stage one night at a local hot spot at the time, called the Tickle Trunk. Despite my absolute fear of performing, I did and shortly after, we formed a band called BIG FISH. That was almost 22 years ago and we are still booked every single week. My musical path wasn't too exciting. I did private voice lessons in New Glasgow and Halifax for 10 years, met Dale and then we formed Big Fish. 10 years into playing, I added the keyboard but am still not skilled at this! Currently I co-own and work as an RMT at Total Kneads - a massage therapy and acupuncture clinic in the Hydrostone area of Halifax. I teach Yoga at Halifax Yoga, and I perform every weekend singing and playing keys with Big Fish. I think having a variety of things you like doing and can potentially make an income at is a great way to find balance in your life. We all know life is too short and its meant to be enjoyed. So, get good grades, exercise, eat well, laugh, enjoy what you do, spend time with good people and find love, within yourself first and then if you want to, with someone else.
This is one example of great friends doing great things at King's-Edgehill School. If you're an alumnus/alumna eager to re-connect with some of your KES friends, there are events going on all over the world. Find out more about that here.