The stage was set for an East vs West final in the inaugural KES Prep Women's Basketball Invitational. Edge School from Calgary vs the host team KES! A rematch of the Thursday night battle.
Edge jumped out to a quick lead, and it became evident that this game was going to be a physical affair. Both teams had been through a few physical battles leading into the final, and it showed. The game was played for the most part close to the basket, which favored Edge in the opening quarter. The shooters from KES eventually heated up and led by the ball distribution by
Aaliyah Arab-Smith
, the team in red closed the gap to be down 4 points, 13-9 to end the 1st.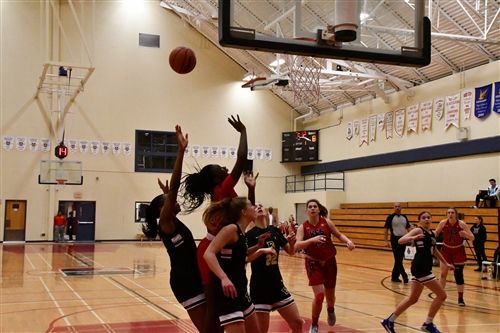 Both offenses got on track, and the tournament MVP (and Canada Basketball National U18 Team member)
Yvonne Ejim
from Calgary, started to exert her will on the flow of the game, but the KES crew pushed back, closing the lead to 33-30 behind the 3 point shooting of
Sydney Foran
and the inspired play of
Laura MacKinnon
and
Samantha Nelson
.
The second half was primed to be the closer to the event that everyone was hoping for.
Ejim
kept up her strong play,
Arab-Smith
continued to hit big shots,
MacKinnon
was a presence on both ends of the floor, and overall each team was digging deep for the last bits of energy they had. The game was tied at 41 after an offensive rebound and put back by
Laura MacKinnon
, and the pressure increased from there.
Brooklyn Walbaum
from Edge hit 2 rally-killing 3 pointers and pushed Edge back to a 6-point lead, one they would not give up. Edge School from Calgary prevailed with a 70-59 win in the final, claiming the crown in the KES Prep Women's Invitational.
This great event enjoyed by all, has built a growing rivalry based on East vs West, and the KES programme is looking forward to heading to Calgary in November 2020 to play in Edge School's Invitational Tournament.
Marc Ffrench
Director of Basketball Operations