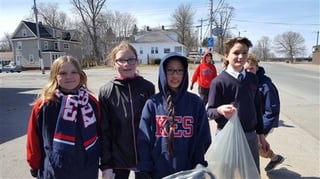 In anticipation of Earth Day on Saturday, April 22nd, students spent Wednesday getting in touch with nature and being stewards of the environment. Once again, Mr. Kershawset the tone for the day by cycling to School from his home in Wolfville, a distance of 35 km; even the cold morning temperatures did not deter him. During Assembly, Rustam Kulizade, Matvey Semenenko and Michael Pitaev did an informative presentation on their Russian homeland, highlighting their culture, geography, politics and food. It fit our Earth Day theme as we were reminded that, although we are almost 7000 km from Moscow, we are all connected globally to our one Earth. Later, a delicious Russian lunch was arranged by the boys and enjoyed by all. We also had a special visitor in Assembly: Jayden Morrow (Grade 8) brought in her five-year-old pet ball python and taught us a great deal about this interesting species. Its docile temperament and beautiful markings made it a great show piece and was a topic of discussion throughout the day.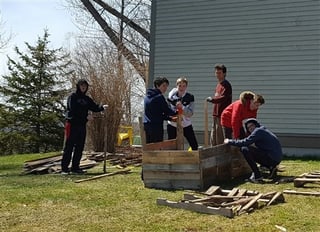 Students also took part in a variety of Earth Day activities following the Assembly: seeds were planted, environmental awareness signs were made, cold frames were built for our campus garden, and all Grade 7 and 9 students took part in a Windsor community cleanup, working purposefully to pick up litter on our campus and along the Windsor waterfront. The Grade 8 students toured Mr. Lakes' property in Wolfville, where he explained the environmental features of living off the grid, sustainable forestry, beehive farming and maple tree tapping. They also took part in a highway cleanup along Ridge Road.

All in all, it was an excellent day; everyone enjoyed the opportunity to raise awareness for environmental stewardship and to carry out activities to make our community cleaner and greener. Special thanks are extended to Mr. Alguire and the KES Green Team for organizing the day's activities. Interested environmental students are encouraged to exercise their leadership by joining the KES Green Team.