Dear KES Family:
The shiny new Canadian Museum of Human Rights in Winnipeg is a short stroll from the Fort Garry Hotel where this year's annual CAIS Conference for Heads and Chairs was held. Located on aboriginal land on the forks of the Red and Assiniboine Rivers, it is also considered to be in the geographic centre of Canada. As I walked through its exhibits of inspiration and abuse, I could not help but cry. The chronicles of victimization, of human cruelty and hatred, tug at the heart strings. In truth, my eyes are misting over as I write these words. I am proud that we can create such a hopeful and reflective monument to attitudinal and behavioural change, and yet, I am devastated by the current headlines that plague our local, national, and international news.
Returning to campus this week has thus been a happier than ever event for me. The irrepressible joy of Emily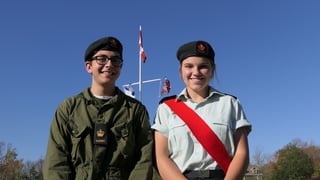 Mei, Qiaoman Tracey, and Athena Cox, as they run excitedly to class or to pat my little dogs Zuri and Nara is truly uplifting. I have shared the student body's irresistible affection of Ella Jollymore's eight-week-old puppy Bobby, and the sparkling smile and laughter of Lindsay Hogan, Julia Strickey, and Nadia Stulberger as they prepared for their duties as Sacristans in the Chapel. Walking around campus this week, I have marvelled at the "high performance team" doing its 6:00am workouts in the dark, and the unique energy and humour of our Division 3 Boys' Soccer team. Nature has helped too – every day we have been blessed with brilliant sunshine and majestic fall colours. How fortunate I have been to have seen deer on campus every single day this week (alas, they don't pause for photos!).
I returned from Manitoba with the affirmation that our School's Mission Statement is more important than ever before. Inspiring our youth to live by the "shared community ideals of gentleness and learning, dignity and respect" is a noble mission. If we are to create real and lasting change in society, a school needs to teach lessons that transcend those contained within the curriculum.
Sincerely,
Joe Seagram