Dear KES Family: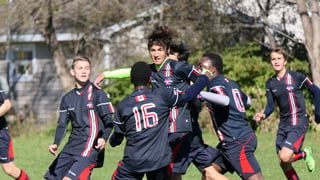 The width of a soccer net is 24 feet. At 8 feet high, it is well over anyone's head. Being 90 minutes long, one would think that a typical match score in soccer would run into the double digits. Not so. Despite its huge dimensions, putting a ball into a soccer net's gaping maw is exceptionally difficult. As a result, goals in soccer are precious. They are the result of effort and skill and consistent team pressure. Compared to other sports, a one-goal lead is disproportionately safe. A two-goal lead can be massive. During good soccer matches, the tension for both players and fans is unlike any other sport.

For 11 straight years, Parkview has won our regional banner. Last weekend in a thrilling series of victories over Avon View and Parkview, we wrested the championship away from the big schools. David slew Goliath. The games were hotly contested and the tension was all but unbearable. Every possession, every pass, every shot, every defensive play, mattered. I was not playing, of course, but I was exhausted at the end.

I took photos throughout and was amazed by the story I saw as I looked at them afterwards. They told a story of individual battles won, of teamwork, of determination, of exultation and of relief. I snapped a photo of the climactic moment at the final whistle, our triumphant team leaping for joy around goal keeper Eric Dufour, and a shattered striker, Adeolu Kofoworade, lying completely flat on his back at midfield. He had given everything he had mentally and emotionally and physically. As coaches, we ask our athletes to give 100%, to fill the unforgiving minutes with everything their hearts and muscles can provide. He had done just that.

This last week was a brilliant one for sport at the School. Our cross-country, soccer, hockey, and volleyball teams all competing and contesting. For some, their provincial championships are over. For others like our senior boys' team, the post season tournament beckons. There are memories to be created and stories yet to be told. They will define the moments and the moments will define them.

Sincerely,
Joe Seagram