Hockey is not only Canada's pastime; it is also a favorite sport and the winter activity of choice for many KES students. Playing hockey is an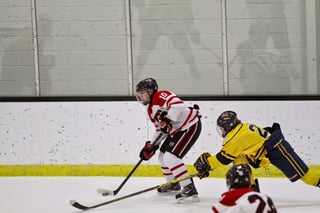 excellent opportunity for any student to put down the books, get exercise and learn new skills. Luckily, KES students have access to a fantastic hockey program right at their own School and over the years, KES' hockey program has grown and developed into a hockey success story!
KES student Connor Snarr was recently drafted to the Yarmouth Mariners Junior A team in the Maritime Hockey League (MHL). For those of you who are familiar with youth hockey, this MHL league feeds into College/University hockey programs and the Quebec Major Junior Hockey League, which can lead to other big opportunities! KES is proud of Connor for all of his hard work and dedication to the sport of hockey.
Connor is one of several successful recent KES hockey players who have played Junior A in the Maritime Hockey League. He follows the talent of KES alum:
Mathieu Pompei – Yarmouth Mariners (MHL) McGill University (CIS)
Pat Bourgault- Campbellton Tigers (MHL)
Jabes Benedict- Campbellton Tigers (MHL)
Gregor MacLeod- Campbellton Tigers (MHL) Charlottetown Islanders (QMJHL)
Dylan Riley- Pictou County Crushers (MHL)
Jonathan Mason- Yarmouth Mariners (MHL)
Karl-Eric Demers- Cape Cod Islanders, North American Eastern Hockey League
Isaac bridge- South Shore Lumberjacks (MHL)
At KES our love of hockey comes from the sports ability to not only be fun and exciting to watch and to play, but also in the sports ability to make players think strategically, think fast and to think differently from that of their competition. Hockey promotes an active life style, team building, leadership skills, and often forms friendships that last long after the game is over. Hockey builds character and players quickly learn the value of working with others and how to rely on their teammates and their cooperation in order to score goals and ultimately win! The team spirit associated with hockey is an extension of the spirit all KES students, staff and faculty share. This sport encourages trust, reliability and of course, sportsmanship.
KES understands that School isn't just about academic success. Life skills are often found and formed outside the classroom and we are proud to foster these skills through all of our athletic programs, including hockey. KES offers various hockey programs including boys and girls prep hockey teams and development hockey. Each program gives students the opportunity to exercise, compete, lead, learn new skills and grow as an individual. KES even offers a unique playing surface when weather cooperates – the campus pond!
For more information about the KES hockey program and how your child can get involved, download the Hockey Handbook Photojournal