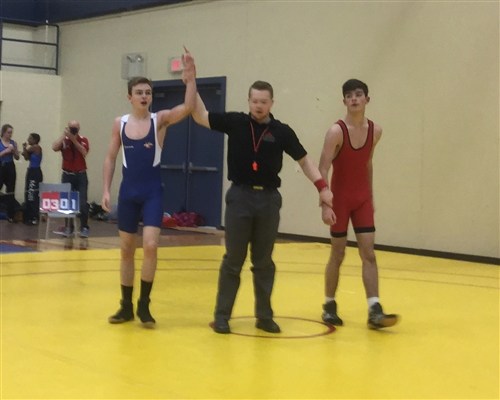 We had a very successful wrestling tournament last weekend with our Senior Girls team placing third, overall, losing the team title by only 4 points. The team was led by
Téa Racozzi
with a GOLD medal win.
Nathan Danquah
also won GOLD and
Noah and Maggie Mills
each won SILVER.
A big thank you to those who came out to watch our tournament and a special thank you to those who volunteered.
Brian Casey
, our Senior Boys Hockey coach, ran the score clock for a couple hours,
Josh
and
Cesar
helped the entire tournament, parents helped out, and the Girls Rugby team ran a canteen service.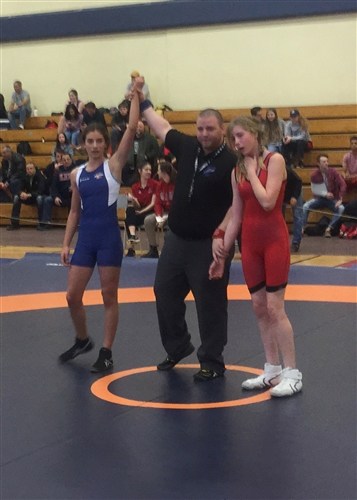 Nathan
and
Téa
were excellent ambassadors of our School
wrestling programme
. They not only wrestled well, but were in the corner helping to coach and lead their teammates in every match.
Sharon Estrada
and
Elizabeth Usachova
were put in the same weight class so Sharon could gain more experience. In the more important qualifier tournaments,
Sharon
will move up to earn more team points since only one wrestler can score points for each team in each weight class.
Noah Mills
wrestled great in the Junior Boys division. He ultimately lost to the more experienced Bathurst wrestler in the finals. He can be the top wrestler in the province, in his category, with more commitment to training on the mat. His younger sister
Maggie
trained with the team last year but wrestled in her first tournament and, although extremely nervous, was able to win two of her three matches for a second place finish. This was a great confidence booster for her. She will be very successful with more practice time on the mat and more match experience. As a Grade 7 student, she is hoping to compete on even ground with the Grade 9 students in her weight class.
Another brave junior,
Kara Day
, rounded out our small Junior Girls team, and she gained valuable experience in her first event against some much bigger and older girls. She started wrestling late in the term but showed great determination in her first matches and never gave up.
There were a number of other wrestlers who were in their first ever match and tournament and they all made great progress.
Quinn Emery
wrestled well as a junior, getting a solid win in his first match, but he was ultimately withdrawn from the tournament due to a shoulder injury he had been nursing over the past week.
The balance of the Senior Girls team were all rookies.
Ella Brown, Ella Jollymore, Camryn Kleynhans
,
Elizabeth Usachova
and
Sharon Estrada
rounded out the team and each gained valuable experience. They all worked hard on their offense and were in some tough matches.
Ella B.
and
Camryn
each were fortunate to compete against some Canada Games wrestlers and National Champions from Nova Scotia and Prince Edward Island.
Elizabeth
and
Sharon
were in the same weight class and ended up in a three-way tie when
Elizabeth
defeated
Sharon
in a tight scramble. This took
Sharon
out of first place and less team points.
This was
Tommy Xu's
first tournament, after taking a year off wrestling. He wrestled in the 120 kg class and lost both matches but will be one to watch this year.
Our next tournament will be the first weekend of February at Sackville High School with a high school tournament on Saturday and the Nova Scotia Open Championships on Sunday.