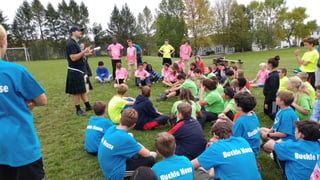 There is no greater way to build a sense of community at school than to take some time off from school's every day routines and have some fun with fellow classmates! Throughout the academic year KES hosts Junior School House games, which kick off in the fall with the Junior School Highland Games – after all Nova Scotia is, of course, New Scotland!
The most recent instalment of the Highland Games saw each of our four 'houses,' whose namesakes honour historical figures from our own campus community as well as the broader Nova Scotian one (Buckle, Haliburton, Howe, and Judd), face off in an exciting show of camaraderie in various games, such as a Tug of War, a Three-Legged Race and 'Och Aye'. The afternoon ended in true Highland fashion with students trying their hands at tossing the caber.
These games are just the first of several House Competition Games that will happen over the course of the academic year. We look forward to other House activities like our Annual Inuit Games, Halloween Games, Harry Potter Games, Minute-to-Win-It Games, and Year-end Finale games.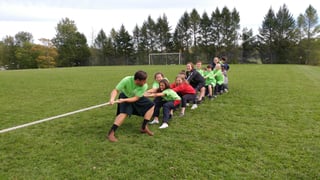 Last year's Minute-to-Win-it competition resulted in uncontrollable laughter! Competitors raced their opponents and the clock, as the larger than life countdown timer kept the pace lively. The events included: "Christmas Cliff hanger" (blowing Christmas cards across a table top and having them land hanging over the opposite edge), Jingle in the Trunk (dancing and jingling until all the jingle bells in the Kleenex box taped to their backs were released), Chocolate Unicorn (stacking six Oreo cookies on their foreheads), Merry Fish-mas! (candy cane fishing), and Chop Stack (stacking winter lip balms using chopsticks), to name just a few.
Lots of laughter, camaraderie and a little historic House competition make for great Junior School memories. It also encourages students to get to know one another better, encourages teamwork and builds confidence. Having fun is also a great way for students to let loose and reduce stress.
There's always something fun going on at King's-Edgehill School. Experience it for yourself! Plan your visit here!