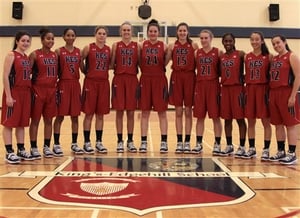 Our KES Prep Girls took on Tilton School Rams Varsity Girls Basketball in an exciting battle on Saturday, January 12. The game opened up with the team trading baskets and no team getting out to more than a 4-point lead without the other reeling them back in to tie it or take the lead. Our KES girls missed a few defensive assignments early, but crashed the boards and established their best rebounding game of the year. The girls were able to turn those rebounds into points off fast breaks and excellent offensive sets.

Aaliyah Arab-Smith

led the way in the first half with 10 points and several key passes for assists, while

Claire Englehutt

continued her inspired play on this trip, chipping in 6 points in the first half along with 6 rebounds. Halftime arrived with the teams separated by only 3 points, Tilton holding a 28-25 lead.

The second half saw both teams find the range on offence, and the scoreboard started lighting up.

Heavyn Beals

led the team by hitting a trio of 3 pointers from way above the 3 point line, drawing murmuring and awe from the Tilton home crowd. Savannah Provo

continued her stellar defensive play, and combined with

Aaliyah Arab Smith's

9 points, KES established an 8 point lead with 3:30 left in the game. Tilton stormed back by hitting 2 three pointers and cashing in on foul shots, to close the KES lead to 2 with under 5 seconds on the clock. On the next possession a questionable foul was called on KES, sending Tilton to the line, to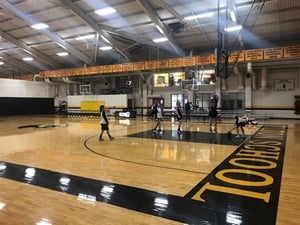 shoot two shots, down 58-57. After a timeout to "ice the shooter", the first shot bounced out, setting up a second shot to tie to send it to overtime, or for KES to grab an important road victory. The shot bounced in, and the game was tied at 58, with 2.1 seconds left on the clock.

Assistant Coach Rachelle Coward

drew up a last second set to give KES a chance for a game winning shot, which the girls ran to perfection.

Heavyn Beals

launched a great pass that travelled almost the full length of the court to

Aaliyah Arab-Smith

who after catching it and taking 2 dribbles, got off a great shot at the buzzer from 17 feet from the rim, and the ball hit off of the edge of the rim, just missing going in for the win. Off to OT...

Overtime saw the KES crew in foul trouble, and Tilton able to create a bit of separation on the scoreboard, and end up with a 68 - 59 win. The KES team has had 2 OT games go against them this year, and are looking to break through at the next Overtime opportunity. This game was our first loss in NEPSAC play, but the team has established itself as an upper-tier team in its class. Tilton's Coach Tara Brisson and I have already agreed to a "same time, same day, same place" for next year's game and beyond. Coach Brisson was very complimentary stating "your team belongs in this tough league, and I am going to be your biggest advocate for whatever your team needs here in New England. Those girls are really, really good..."

After a busy weekend that included a visit to Harvard University to see the Crimson Women's Basketball Program in action, and a tour of the athletic facilities, our KES Prep team has this upcoming weekend off and are preparing for their 1st Annual family trip during the January Break. We look forward to having some of our player's parents, grandparents and supporters along with us for a great weekend of NEPSAC games.



King's-Edgehill School Coaches are passionate about athletics and fitness. Your child can participate in a sport recreationally or competitively including soccer, swimming, equestrian, basketball with many, many more options to choose from. Download our Athletics PhotoJournal.