Once again, I am very proud to announce our Annual Grade 11 and 12 IB Art Exhibition, with the
Opening Reception on Thursday, April 12 at 7:00 pm
in the Stanfield Dining Hall/McLellan Annex.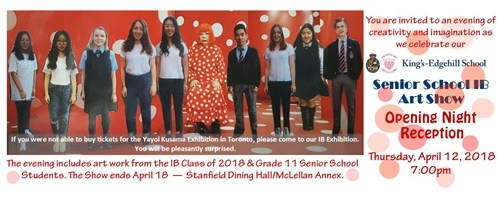 This final exhibition is the culmination of our students' IB experiences. They chose a selection of their work which articulates the purpose and intent of their show. I think you will be pleasantly surprised at the quality and diversity of their work.
We hope you will join us in celebrating our students' incredible work that reflects their creativity, passion and imagination. Here is a sampling of some of the students' Art work that will be in the exhibition. The show continues until
Wednesday, April 18.
Creativity, Action and Service are a fundamental part of the International Baccalaureate Programme. These encourage students to appreciate life beyond the world of scholarship, so they can strive to be more. Find out more about our IB Programme here.