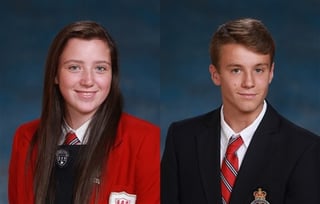 We have two King's-Edgehill School soccer players who will represent Nova Scotia in Vancouver, April 12th to 17th, as part of the Vancouver Whitecaps Showcase.
Madelyn Walsh and Carson Ripoll will play for the Soccer Nova Scotia Team White or Team Blue female or male provincial team. Madelyn and Carson will play against fellow Whitecaps Academy Centre Programmes and club teams from across the country in preparation for representing Nova Scotia at the 2017 Aliant Atlantic Championships in June. This is an opportunity for our two varsity KES players to test themselves against their peers from across Canada.
The schedule in Vancouver includes high-level games against academy and club teams that will be heavily scouted by university coaches and scouts from the United States (NCAA) and Canada (U-Sport). It will be a busy, but rewarding learning experience for the players as they aim to garner attraction from university coaches and plan for their university experience in the near future.

We wish both Madelyn and Carson the very best of luck on their trip to the west coast, and look forward to some exciting stories on their return.
For more information on KES Atheltic Programming, download our Athletics PhotoJournal: