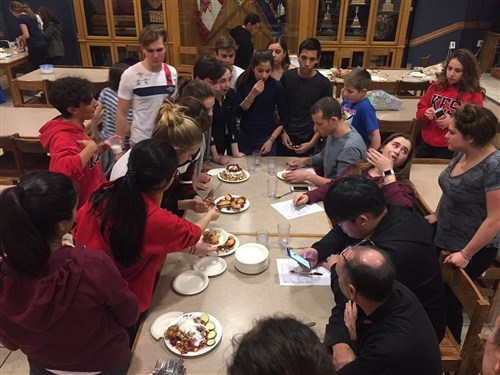 Last week teams of KES student chefs had the chance to cook head to head in an intense and entertaining competition based on the television show "Chopped". Here is how it worked:

Four teams entered the competition. Each team had access to basic pantry ingredients, such as eggs, milk, flour, bread, oil, spices, and so on. Teams were set up at identical preparation and cooking stations, where they were given an electric cook top, mixing bowls, pans, and basic utensils. Each team was then given matching "mystery baskets" which they had to use for the appetizer, main course, and dessert.
| | | |
| --- | --- | --- |
| Appetizer | Main Course | Dessert |
| Cucumber | Toasted Baguette Crackers | Lady Fingers |
| Cream Cheese | Mango Salsa | Zucchini |
| Pink Grapefruit | Tofu | Fresh Raspberries |
| Dates | Baby Bok Choy | Caramel Popcorn |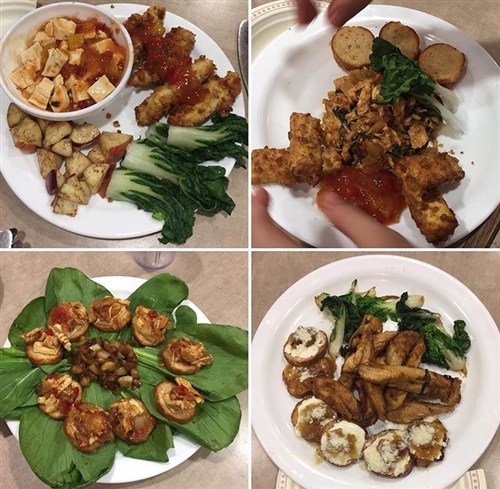 Teams raced against the clock, chopping, peeling, mixing, stirring, and trying to outdo one another by making the tastiest dish with the best presentation. Judging the competition were KES staff and students, including
Denny Du, Stefania Ramirez, Mr.
Robinson
, and our very own
Chartwells' chef, Keith Miller
! At the end of three rounds, the points were tallied for each category, with team "Silver Confetti" coming out on top.
Other than teams sometimes "forgetting" to use a key mystery basket ingredient (ahem, zucchini!), it was fascinating to see the variety of dishes teams produced when given a similar set of ingredients, and how enthusiastic and skilled all students were at concocting gastronomic deliciousness. Our KES students love to cook, create, and share meals together! A very special thank you to the
Chartwells
staff for helping to make this evening a success.