The staff and faculty at King's-Edgehill School recognize the importance of a quality junior and senior school education, and understand that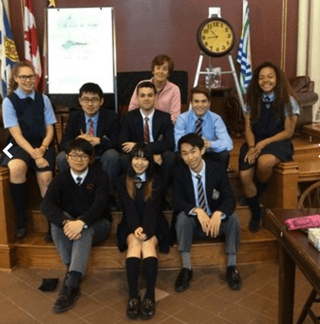 during this time it is also our responsibility to prepare students for post-secondary academic success.
One way in which KES prepares students for university is by offering interested students the opportunity to visit top Ontario universities including McMaster, Waterloo and the University of Toronto. The purpose of this trip is to provide students with insight into the post-secondary life and show them, in person, some of the choices available to them.
The Ontario Universities trip is offered every other year and the next tour will take place for Grade 11 and 12 students during the fall of the 2016-2017 school year. This event fills up quickly so interested students should register early.
Another way KES assists students in their preparation for university is through "prep groups". Prep groups are mandatory for Grade 12 students and run from the second week of the school year until the end of term. The objective of the prep group is to divide students into groups of approximately 12 students so they can discuss and assist one another on various topics as it relates to post-secondary school including: types of degree programmes, the application process, scholarships, career possibilities, study habits, time management, etc.
The purpose of the prep groups is to not only inform and assist senior students through the university application process, but to also keep them accountable to ensure deadlines are met, time is being well spent, and that each student has the ability to maximize their chances for success. For more information on KES' university prep groups, click here.
In addition to the prep groups, senior students are encouraged to take advantage of university counseling. It is the mission of the Guidance Department to help each student find the university or post-secondary school that is the right fit.
Each student is assigned an academic advisor and are encouraged to visit them whenever they have questions or to research post-secondary options open to them. If a student will be applying to a school in the United States, the Guidance Centre can also assist them with SAT and/or ACT preparation.
By keeping the channels of communication open and resources plentiful, it is the hope of KES that every student will have their questions or concerns regarding post-secondary life answered and will be well on their way to reaching (and surpassing!) their academic goals. For more information on university counseling services, click below