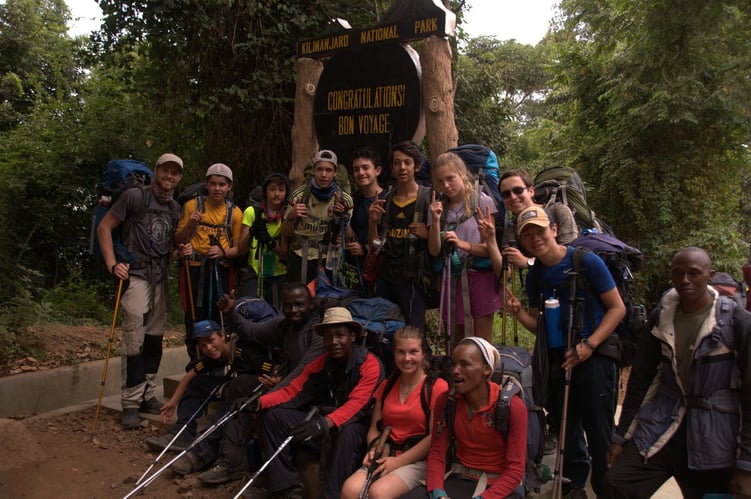 Have you ever wondered what kind of opportunities your child would have at King's-Edgehill School? Think big! Just recently, a small group
of our students completed two once-in-a-lifetime international trips – one to Central Europe and one to Tanzania.
The trip to Tanzania, took place over March Break 2016. After departing from Halifax on March 5th at 1:50 pm and flying to Toronto and then to Istanbul, the KES team finally made it to Kilimanjaro the next day at 2:45 am local time.
Their exciting itinerary consisted of almost three weeks of living on game reserves, out of a backpack, sleeping in a tent, with no hot showers, electricity, or any kind of electronics (including no Smartphones or iPods!). Instead of hotels and urban lights, they camped on the ground in magnificent national parks and immersed themselves in the sights and sounds of nature.
Their journey started in Arusha, and continued to protected areas including Lake Natron, Lake Manyara, Tarangire National Park, the Ngorogoro Crater, and Empakai Crater – all of which could only be reached by 4x4 or on foot.
The second part of the student's expedition took them to the Matonyok Orphanage in a Maasai Village by Lake Natron. While there, the students added two classrooms to the two built by KES students in 2013. While sweating through the construction, by hand, the KES team was exposed to the searing desert heat found in the depths of Tanzania's Rift Valley. And while the sun and air was extremely hot, it did not diminish their determination to complete the project!
The final section of their adventure took them to the Roof of Africa, in which they climbed the largest freestanding mountain in the world – Mount Kilimanjaro. For the six days spent climbing to the summit of Kilimanjaro, life was reduced to the simple daily task of putting one foot in front of the other thousands of times an hour for hours on end.
The lessons learned from this trip were invaluable. Students learned what material goods were really necessary for a happy life (water and Nutella top the list) and found contentment through a simple deck of cards (and not a mobile device). Students learned that hard work, planning, and preparation result in great things! Whether it was the physical training regimen the students had to participate in prior to departure so they could be at their physical best at altitude, or working through extreme dessert heat, this expedition was a transformative experience for all involved.
The entire Leadership Team spent weeks physically preparing, researching, planning, and packing. One can attribute fitness and preparation, good clothing and equipment, determination and drive, to the success of this trip. After all, everyone made it to the Roof of Africa in record time!
This trip marked the fourth KES Leadership Expedition to Africa and consisted of twenty-four people, varying in ages from twelve to seventeen, with eleven from our Junior School. It was one of KES' youngest groups of students to have journeyed overseas and the entire staff of King's-Edgehill School is proud of how responsible, determined, and hardworking this group of young globetrotters were. We look forward to travelling with these students – and other KES students – again soon. You can browse more of our photos here.
Interested in learning just where in the world KES students have travelled? Take a look at our Oh, the Places You'll Go! eBook, a Dr. Seuss inspired eBook that includes travel opportunities at our school. This is your guide so take a peek inside! There are so many experiences that will stimulate the mind. From ice hiking Mount Washington to the Big Apple-NYC, there is so much to do and so much to see!