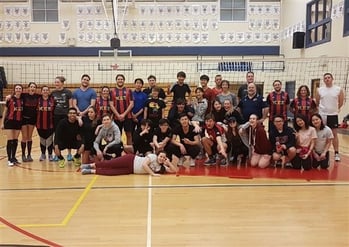 March 1st, 2019 marked the day for the first KES "Volleyball Masters" Tournament. Five student teams and two staff teams came out to play and compete for the title. The tournament had terrific rallies, close games and great moments of sportsmanship. However, the best part of the tournament was definitely the spirit of all our teams. Everyone was having fun, pushing and motivating each other. The strong and united spirit and atmosphere everyone felt during the cultural fair is still present and alive at KES!

At the end of the evening, students left with a smile, without injuries and with the good feeling of being active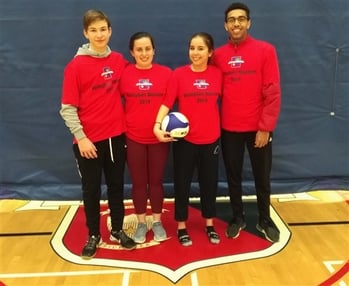 for more than four hours on a Friday night. The team of Julia, Finn, Jarred and Sophia left the gym with a new athletic shirts for winning the title of "Best Student Team". A very thrilling final was decided between the two staff teams, where "Teach Hard, Spiker Harder" came out as the happy winners of the tournament. I hope this is the beginning of a great new tradition that will be continued for years to come. Special thanks to Mrs. Schafer and Ms. Sinclair who helped with the organization.

Rain and Benson did a great job setting up the court and helping as referees and scorekeepers. Their contributions made this a successful night and their help was very much appreciated. I wish everyone a great March Break.
There are so many activities here that get students doing more, while we help them aspire to be more. If you're considering King's-Edgehill School for your child, you may want to connect with a current KES parent for answers and insights. We'll connect you with one here.